Did you recently receive a pre-qualification loan mailer that led you to enroll with Phoenix Legal Group? If so, you might be wondering who this company is and whether they are legitimate or a scam. In this article, we will explore the background and services of Phoenix Legal Group, examine their online presence, and review customer feedback to help you make an informed decision. So, let's dive in and uncover the truth about Phoenix Legal Group.

Phoenix Legal Group: An Overview
Phoenix Legal Group appears to be a debt relief law firm led by Lori Leigh, specializing in debt settlement services, also known as debt consolidation programs. It is worth noting that Phoenix Legal should not be confused with Phoenix Law Group, an insured private investigation agency, which is associated with the Litigation Practice Group. When evaluating such companies, it is essential to investigate their history and gather relevant information about their operations.
Website Age and Associations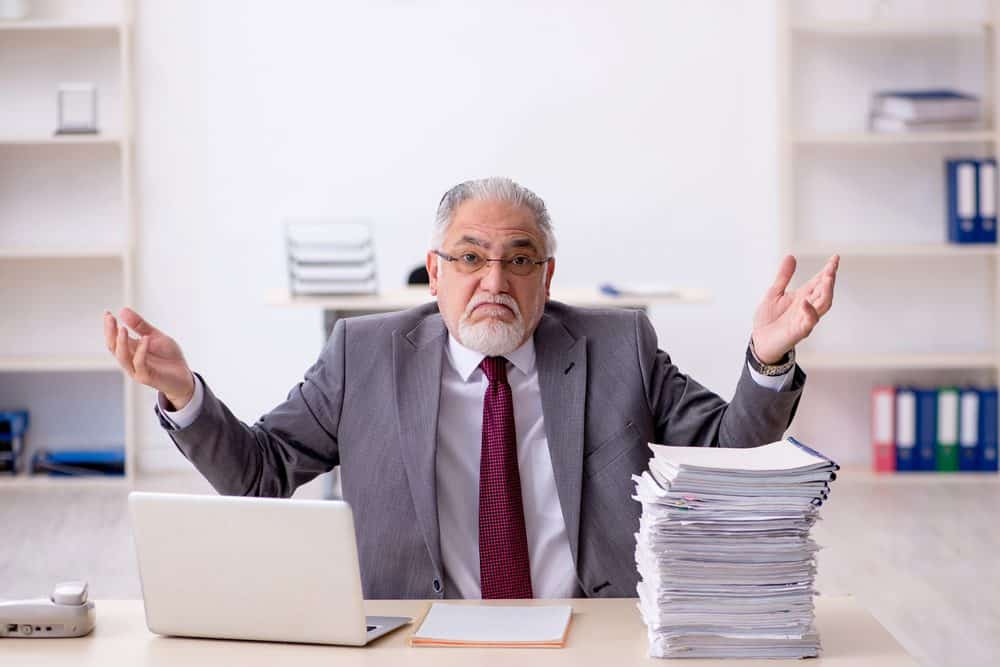 One interesting aspect of Phoenix Legal Group is the longevity of its website. The company's website has been active for nearly nine years, which is significantly longer than some other similar entities. This longevity may indicate stability and experience in the industry. However, it is essential to delve deeper into their operations to assess their credibility further.
A noteworthy discovery during our investigation was the association between Phoenix Legal Group and something called Progress Ad Solutions. This association was evident from the email address provided on the initial Phoenix Legal Group home page screenshot. Progress Ad Solutions appears to be linked to a website directly involved in debt settlement ad solutions. This connection raises questions about the nature of Phoenix Legal Group's operations and potential affiliations with other organizations.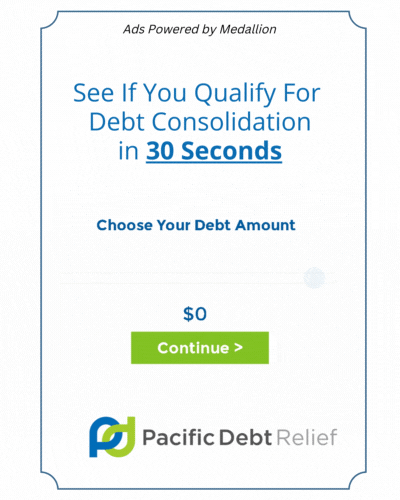 Fee Structure and Affordability
One critical aspect to consider when engaging with a debt settlement company is its fee structure. Many debt settlement services charge fees after the first settlement, but it is important to determine whether law firms like Phoenix Legal Group follow a different approach. During our review, we discovered similarities between Phoenix Legal Group and Boulder Legal Group, another law firm. Boulder Legal Group's contract specifies that fees are deducted before settlement. This deviation from the common practice warrants further consideration.
Additionally, affordability is a key concern for individuals seeking debt relief services with legal support. Many people find it challenging to afford the monthly payment required when working with a debt settlement company. To address this issue, we have developed a free debt resolution options calculator that helps individuals explore their alternatives and evaluate the costs associated with each option. Our calculator provides a personalized estimate tailored to your specific circumstances, empowering you to make informed decisions to overcome your debt burden more effectively.
Phoenix Legal Group Reviews
BBB
To gain insights into Phoenix Legal Group's reputation, it is valuable to examine reviews and feedback from previous clients. Two sources that provide relatively unbiased and comprehensive reviews are the Better Business Bureau (BBB) and Google.
On BBB, Phoenix Legal Group currently holds a 1.11 rating based on nine reviews and has received a D+ rating. It is notable that there is a current BBB alert for Phoenix Legal Group indicating a pattern of complaints, which is uncommon. This alert raises concerns about the company's practices and suggests that someone else might be enrolling individuals in Phoenix Legal Group without their direct consent.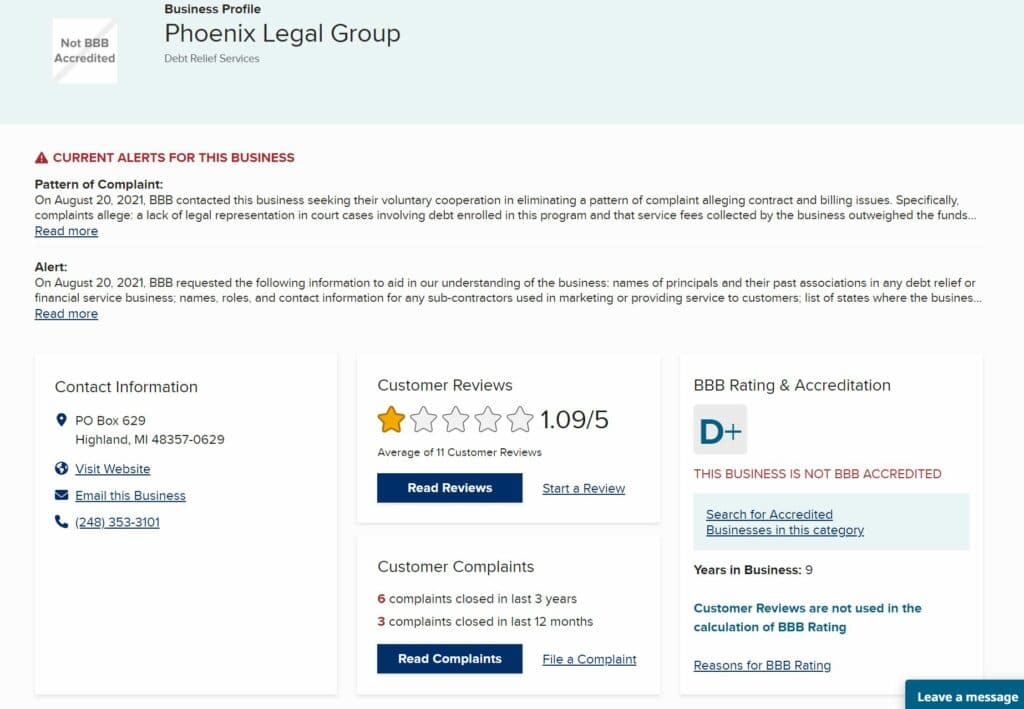 FRAUD… SPAM They put me in deep debt. I was current on all my bills until they promised to help me pay them off and make small payments. I was planning to buy a house this year and they just s**** my dream.

This company is a fraud, they just got me deeper in debt. I called yesterday and told them I didn't want to continue with them and they better not take anything else out of my account. I called my creditors and made a better deal with them after this company screwed me over.

I was talking about this by another group that sold me to Phoenix law group. I said isn't that what you say you go after credit card companies for selling you to another bank and you did the exact same thing. I'm paying him $500 a month and I don't think they've done a thing for me. None of my accounts seem to be aware of them. Now I've ruined my credit which it was not ruined until I spoke to them.
Google
On Google, Phoenix Legal Group has a 1.9 rating based on seven reviews. One recurring theme in the Google reviews is the claim that the legal group deducts their fees before initiating the debt settlement process, unlike most other debt relief companies. It is possible that Phoenix Legal Group adopts this approach because they are a law firm, and the fees may be considered as retaining the services of the firm. However, one individual who completed the program reported that the company settled for only 67% of their charges, which may raise concerns about the efficacy of their services.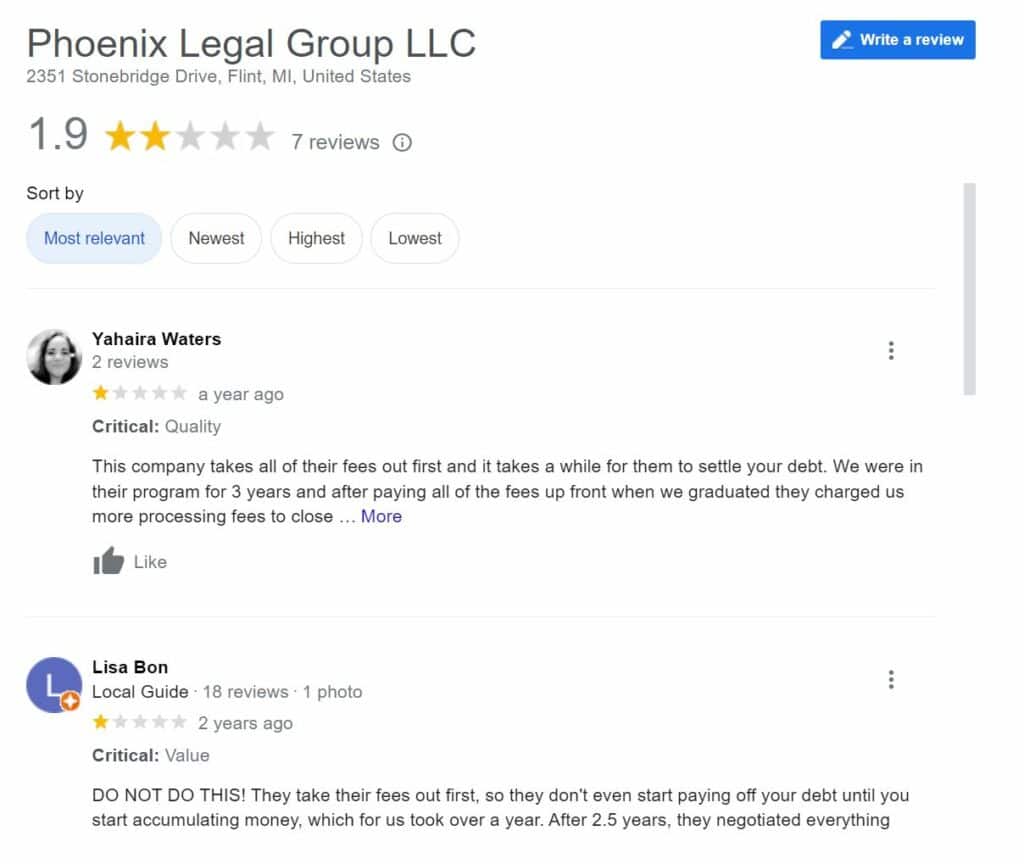 Exploring Your Options
Considering the information presented, it is crucial to carefully evaluate your options before making any decisions.
If you are inclined to continue your association with Phoenix Legal Group, we recommend thoroughly reviewing the Client Services Agreement. Understanding the reasons behind their fee deduction policy, the specific services they provide, and the percentage fee they charge is crucial for making an informed decision.
However, if you are considering canceling your enrollment, it may be necessary to contact Phoenix Legal Group directly. In some cases, assistance from your bank may be required if canceling the program proves challenging through direct contact with the company.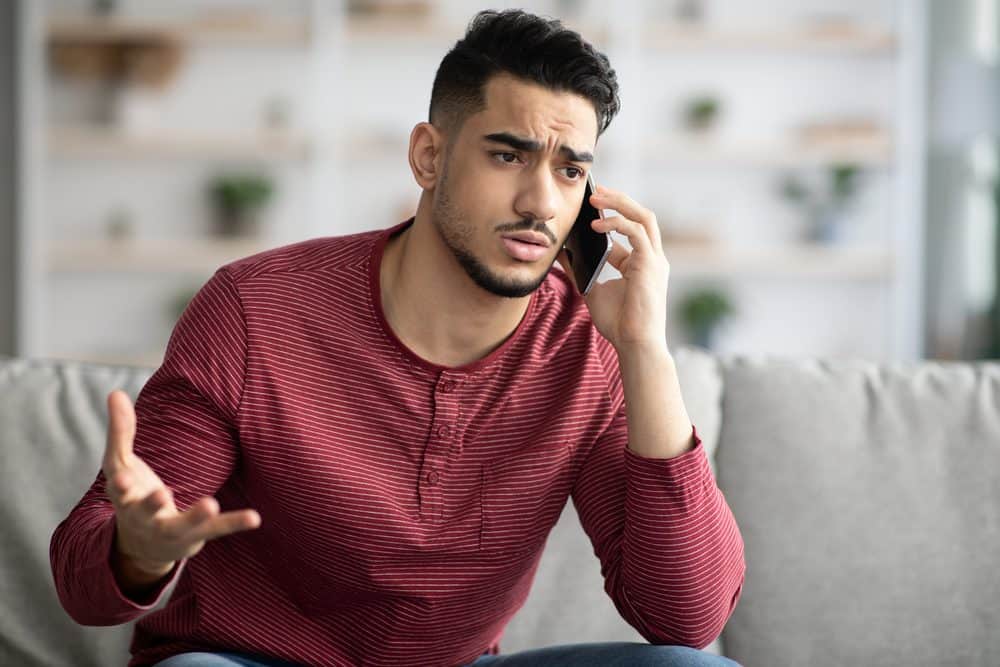 FAQs
How long has Phoenix Legal Group been operating in the debt relief industry?
Answer: Phoenix Legal Group has been providing debt relief services for several years, having established its presence in the industry. However, the longevity of its operations does not necessarily guarantee its effectiveness or legitimacy, or comprehensive legal guidance.
Are there any specific accreditations or certifications that Phoenix Legal Group holds?
Answer: Phoenix Legal Group does not appear to hold any notable accreditations or certifications within the debt relief industry. It is essential to consider this lack of external validation when assessing the company's credibility.
Is Phoenix Legal Group affiliated with any other debt relief organizations or networks?
Answer: While there is no concrete evidence linking Phoenix Legal to other debt relief organizations or networks, the association with Progress Ad Solutions raises questions about potential connections and shared practices.
Are there any legal actions or lawsuits filed against Phoenix Legal Group?
Answer: As of the latest information available, there have been no notable legal actions or lawsuits filed against Phoenix. However, the presence of customer complaints and negative reviews suggests dissatisfaction among some clients.
Can Phoenix Legal Group guarantee specific results or outcomes in debt settlement?
Answer: Like most debt relief companies, it cannot guarantee specific results or outcomes in debt settlement with debt collectors. The success of their efforts will depend on various factors, including the individual's financial situation and creditors' willingness to negotiate.
Does Phoenix Legal Group offer any additional financial education or resources to clients?
Answer: It does not seem to prioritize providing additional financial education or resources to clients. Their focus appears to be primarily on debt settlement rather than holistic financial empowerment.
How responsive is Phoenix Legal Group's customer support team?
Answer: Customer feedback suggests that its customer support team may not be as responsive as desired. Some clients have reported difficulties in reaching out and obtaining timely assistance or information.
What is the process for enrolling with Phoenix Legal Group?
Answer: The enrollment process typically involves contacting Phoenix through their provided channels, discussing your financial situation, and potentially providing relevant documentation or legal documents. However, it is crucial to thoroughly understand the terms and conditions before committing to their services.
Can I negotiate the fees charged by Phoenix Legal Group?
Answer: While it may be possible to negotiate the fees charged by Phoenix Legal Group, this is not guaranteed. It is advisable to have a clear understanding of the fee structure and engage in open communication with the company to explore any potential flexibility.
Is Phoenix Legal Group transparent about the potential risks and drawbacks of its services?
Answer: Transparency regarding potential risks and drawbacks of their services appears to be lacking in Phoenix Legal Group's communication. It is essential to proactively seek out information and clarify any concerns to ensure you are fully aware of the implications and potential challenges associated with their debt settlement programs.
Conclusion
When it comes to evaluating Phoenix Legal Group, it's important to approach the topic with a discerning eye. While the company has been in operation for a significant period and presents itself as a debt relief law firm, there are certain aspects that raise concerns about its legitimacy. The association with Progress Ad Solutions and the deviation from the typical fee structure for debt settlement services are noteworthy factors to consider.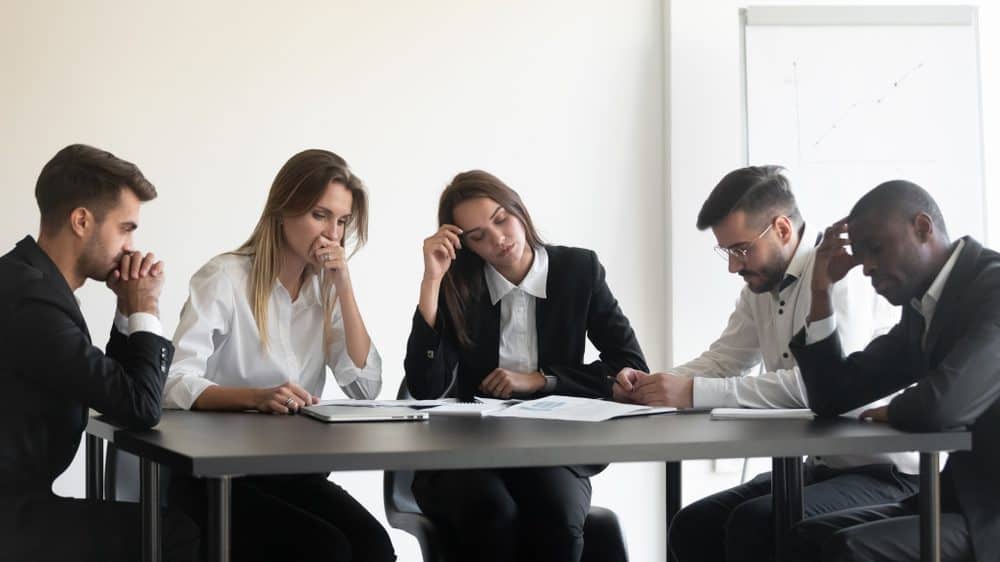 Furthermore, the reviews and ratings from reputable sources like BBB and Google highlight a pattern of complaints and dissatisfaction among some clients. The claims that fees are deducted upfront and the mixed success rates in settling debts further contribute to the skepticism surrounding Phoenix Legal Group's effectiveness.
Based on the available information, it is prudent to exercise caution and carefully weigh your options before engaging with Phoenix Legal Group or any debt relief firm. Consider exploring alternative debt resolution solutions, consulting with financial professionals, and thoroughly understanding the terms and conditions of any agreement before proceeding.
In the end, it is crucial to prioritize your financial well-being and make informed decisions that align with your goals. Seek out trustworthy sources, conduct thorough research, and take the time to assess your personal financial situation. By doing so, you can navigate the complex landscape of debt relief services and work towards a more secure and stable financial future.
Phoenix Legal Group
Phoenix Legal Group Review
When it comes to evaluating Phoenix Legal Group, it's important to approach the topic with a discerning eye. While the company has been in operation for a significant period and presents itself as a debt relief law firm, there are certain aspects that raise concerns about its legitimacy. The association with Progress Ad Solutions and the deviation from the typical fee structure for debt settlement services are noteworthy factors to consider. Furthermore, the reviews and ratings from reputable sources like BBB and Google highlight a pattern of complaints and dissatisfaction among some clients. The claims that fees are deducted upfront and the mixed success rates in settling debts further contribute to the skepticism surrounding Phoenix Legal Group's effectiveness