Pacific Service Credit Union is one of the country's largest and most financially sound credit unions. The Pacific Service Credit Union has been serving its members' financial needs for over 80 years. Offering a wide range of products and services, the credit union has built a reputation for being a source of financial assistance. It advertises its services at pacificservices.org.
Pacific Services Credit Union Summary
Before taking out a loan, it is important to compare different lenders to find the best option for you. Pacific Service Credit Union is one lender that has been receiving a lot of attention recently. However, is this the right lender for your needs? In this article, we will take a closer look at what Pacific Service Credit Union has to offer so that you can make an informed decision.
After doing some research, it seems that Pacific Service Credit Union's website and terms and conditions are not exactly as good as they seem on their mail offers. Here is a summary of our findings.
Personal Loans range between 7.49% to 18.99%.
Loan terms range between 36 to 60 months.
The annual Percentage Rate (APR) is subject to change.
The interest rates, maximum term, and loan amount for a loan are based on the borrower's credit qualifications.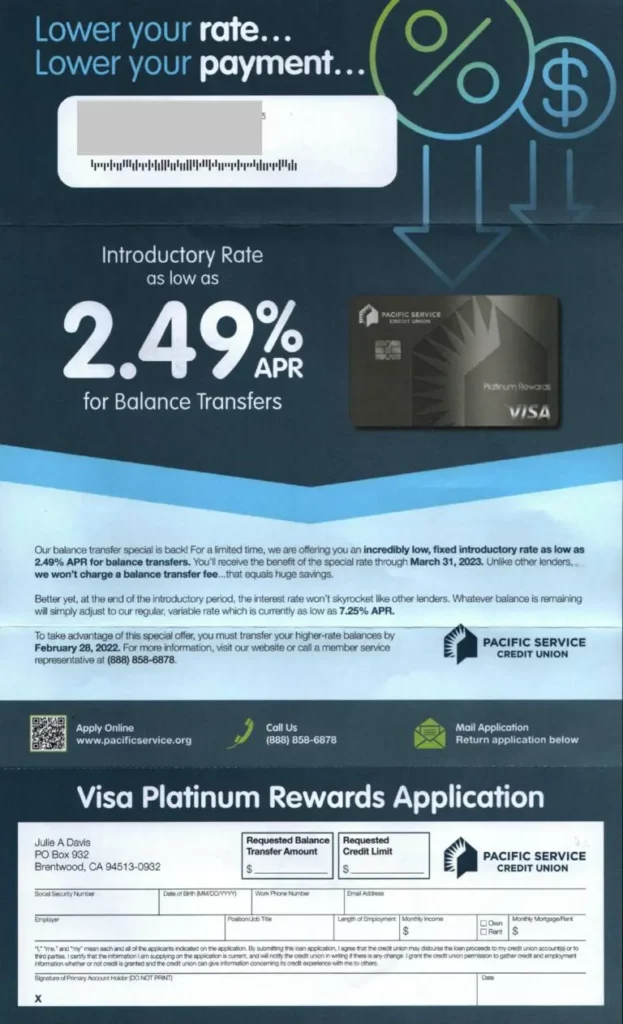 What is Pacific Service Credit Union?
Pacific Service Credit Union has been providing personal loans for home equity, auto loans, mortgage loans, and more for over 80 years. Headquartered in Walnut Creek, California, Pacific Service Credit Union is dedicated to providing excellent service to its members. You can reach the company by phone at (888) 858-6878 or by email to [email protected] with any questions or concerns.
The Better Business Bureau (BBB) has given the credit union a B- rating and has not accredited it. The business has 0 reviews but 2 complaints have been filed in the last 3 years.
How does Pacific Service Credit Union work?
As one of the largest credit unions in the country, Pacific Service Credit Union provides a wide range of services to its members near and far. With a convenient ATM and branch network, as well as a mobile app, members have easy access to their accounts no matter where they are in the country.
You don't have to worry about exorbitant membership fees; simply open an account to get started. Be sure to have the following information on hand: your social security number or individual tax ID number, and a valid form of state identification.
The credit union accepts a variety of government-issued identification cards, including driver's licenses, state ID cards, and passports. On rare occasions, they also accept military IDs.
How to qualify for Pacific Service Credit Union?
Joining Pacific Service Credit Union is easy and open to anyone who belongs to one of the following groups:
Residents of Alameda, Contra Costa, Fresno, Marin, Napa, Placer, Sacramento, San Francisco, San Mateo, Santa Clara, Solano, and Sonoma counties in California can all take advantage of this opportunity.
Close relatives of a current Pacific Service CU member, including husband, wife, kids, parents, brothers, sisters, grandparents, grandchildren, uncles, aunts, and first cousins.
Members of a current Pacific Service Credit Union member's immediate family, including roommates, are eligible for membership.
The individuals who work for a business, corporation, organization, association, or other legal entity that is currently situated in the counties mentioned earlier.
Employees of one of their business partners.
Pacific Service Credit Union offers banking services to regular full-time employed individuals of companies, contractors, and temporary agencies that work with or for Pacific Gas and Electric Company (PG&E), as well as independent contractors working on assignments at PG&E locations.
Public and private energy sector employers and workers in California and Texas are covered under this rule.
Pacific Service Credit Union BBB Reviews
Pacific Service Credit Union has been in business for over 50 years and has a B- rating from the Better Business Bureau. In addition, there have been 2 complaints filed against the business in the last 3 years.
Here are some reviews:
Initial Complaint 04/13/2022
Complaint Type: Problems with Product/Service Status: Unanswered
Hello, I am a member of Pacific services Credit Union. I have a **** card through the credit Union in which I was having trouble making the payment during covid because my husband had lost his job and my family was living off of one income. I ended up speaking with ********************* from Pacific service credit Union and he provided me with a Loan modification for my **** card to get me caught up and back on track.

I've been making payments on my **** card For many months now however the balance has not changed. It looks like they are charging me a lot of interest as well as penalties and I don't know what else when my understanding was my balance would be $15,049 I would begin starting fresh Without penalties are back interest making payments as of the date the loan modification agreement was signed.
I have contacted the credit Union in writing 5 times requesting to speak with ********to discuss this situation and I've continued to make payments so that I do not default on my **** card however ****** has not called me back. Can somebody please help me so that I can get some response from *********at the Credit Union and be able to remedy the situation I feel like I'm being ignored and I still have to make my payments even though I feel like I'm being taken advantage of and this is not my understanding of what the agreement was? Thank you very much any assistance you can provide would be greatly appreciated.
Pacific Service Credit Union FAQs
How much does Pacific Service Credit Union charge?
Pacific Service Credit Union offers personal loans with interest rates starting as low as 7.49%. You can choose from a variety of repayment plans, with terms ranging from 12 to 60 months. So whether you're consolidating debt or making a large purchase, Pacific Service Credit Union has a loan option to fit your needs. Plus, their lowest quoted rate is 7.49% APR.
One example is a loan with a monthly payment of $1,000 at 7.49% APR for 36 months would be $31.10.
Are there any pre-payment penalties?
We were disappointed to find no mention of fees on the Pacific Service Credit Union website.
How does Pacific Service Credit Union affect your credit?
When you are considering taking out a loan, it is crucial to look into your credit score and research what interest rates and terms you could qualify for. Checking your credit score in advance, with a soft credit pull, will not affect your credit score whatsoever.
Applying for a loan can be a tough decision, especially when you know that the lender will do a hard credit inquiry. This can lower your credit score, so it's important to be aware of that before proceeding. However, hard inquiries are common with loan applications, so don't let that deter you from getting the money you need.
How to cancel Pacific Service Credit Union?
Before taking out a personal loan, it is important to be sure of your decision. Once the money has been deposited into your account, there is no way to cancel or reverse the transaction. Therefore, make sure you are happy with your choice before proceeding. This will help you avoid any cancellations or changes down the road.
Do you find it hard to make rent each month? Here's some advice that may help you stay afloat.
Learning how to manage your finances can be tough, but following these three tips can help get your finances on track.
Budgeting is one of the most important aspects of financial planning. By creating and sticking to a budget, you can ensure that your spending is aligned with your financial goals.
A financial advisor can help you understand your unique situation and develop a plan that works for you. This can give you invaluable insights into your finances and help you make the best decisions for your future.
Don't fret too much about debt. Many organizations are more than happy to work out a more manageable payment plan with customers. So get in touch with their customer service team for further details.
If you have worked with pacificservice.org in the past and would like to share your experience, feel free to write a short review in the comments below.
Thank you for reading!