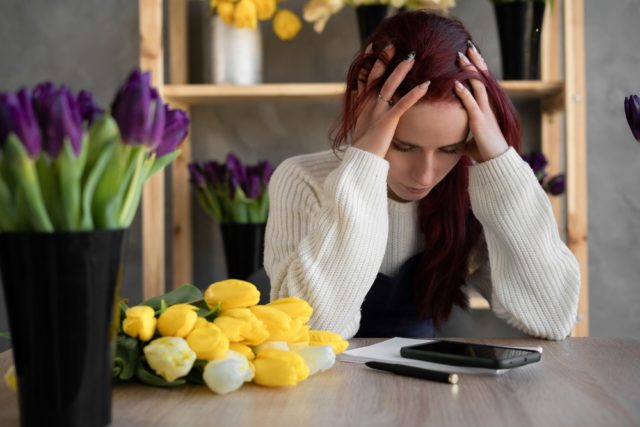 Have you been experiencing financial difficulties and cannot figure out how to pay your debt? You may need debt consolidation services. Many people have heard about Symple Lending but do not know if it's trustworthy. It has helped many people repay their debt but are these just false claims, or is the company legit? This article will help you show the good and the bad side of Symple Lending. We will also look at Symple Lending reviews and find out what the general opinion about the company is.
Symple Lending supports people in debt by consolidating their total debt into easy monthly payments. Although a few Symple Lending reviews support the company, you should know about each aspect before deciding to work with them.
Some Symple Lending reviews say that the company is a bait and switch scheme. Symple Lending is popular for charging high-interest rates and fees. Yet, some people have paid off their debt with Symple Lending.
We advise looking at services provided by other companies before considering Symple Lending. Other debt consolidation companies may offer lower fees and interest rates. This can make payments easier and stress-free for you. Otherwise, you can also get in touch with creditors alone to look for programs to lower your monthly payments.

Symple Lending – What Kind of Company Is It?
Symple Lending is a business that provides personal loan services. Their operations are based in Costa Mesa, California. The company also offers business loans and debt consolidation loans. Symple Lending is relatively new to the industry and was established in 2021.
They offer a variety of loans depending on different needs. You can get debt consolidation loans, personal loans, business loans, and home improvement loans.
Debt Consolidation Loans:
These loans can help a person pay off high-interest loans more quickly.
These loans can pay for home improvement projects like additions, renovations, and home repairs.
Business loans can help you invest in business operations and build your business.
There is no set use for personal use loans. You can use these loans for any objective, such as debt consolidation, home renovations, etc.
Whenever you opt for debt consolidation services, always compare rates. Other companies may provide the same service for a much lower rate and with a much better offer
In certain situations, the Annual Percentage Rate for a loan from the company is more than twice of that of a personal loan from a normal bank. The Annual Percentage Rate of a Debt Consolidation loan for 36 months from Symple Lending is around 14.99%. Yet, the Annual Percentage Rate on a personal loan from a regular bank can be around 6%. This has been a big reason why Symple Lending clients are dissatisfied with them.
The Owner of Symple Lending
Although it may not come as a big surprise, Symple Lending's owner is Mr. Houston Fraley. Mr. Fraley is also the Chief Executive Officer of Symple Lending and is the one responsible for debt consolidation. To all those concerned, he is the one responsible for not lowering the ridiculously high fees
Now, if you were ever curious about who runs operations in Symple Lending, you know that it is Houston Fraley. Knowing how he does not empathize with his clients ought to make you think twice about who you are trusting. Can you really trust a man whose sole interest is to make as large a profit as possible?
Symple Lending – The Good and the Bad (Pros & Cons)
Symple Lending is a well-known company that has been accused by its clients of using bait and switch tactics. The company advertises itself as a lender. But a few Symple Lending reviews from customers may cause doubts. Online complaints and comments may make you think twice about using their services. Even so, to help you make the decision to use Symple Lending services, we have listed their pros and cons:
Pros of Using Symple Lending:
Symple Lending allows making extra payments without a penalty. This can help you pay off your debt quicker.
Their representatives offer a free consultation. It can help them understand if you are the right fit for their program.
Cons of Using Symple Lending:
People have accused their business of using dishonest bait and switch techniques.
The company offers high-interest rates that can be damaging in the long term.
The business has high fees, which can mean taking advantage of the person already in need.
The customer service of the business has been known to be very poor.
All in all, Symple Lending services offer a few advantages along with a long list of disadvantages. Always remember that choose a debt consolidation service carefully. This is because these companies will have a long-term financial relationship with you.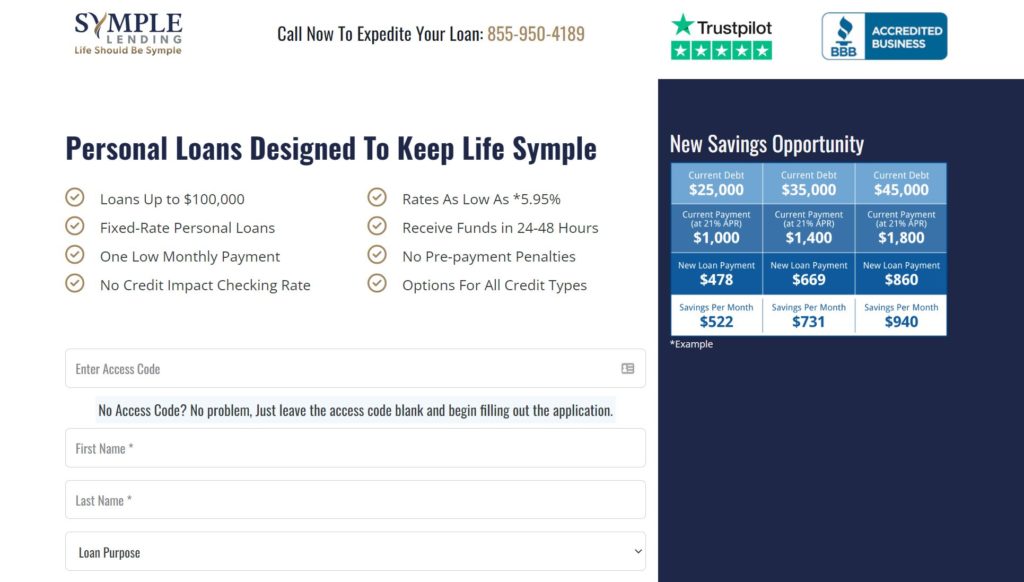 What Is Debt Consolidation and How Does It Work?
Debt consolidation is a great solution that enables an indebted person to pay off many debts. It means taking a new loan so that you can fulfill the obligations of other debts or high-interest loans. Debt consolidation can take place by refinancing your house mortgage or by availing of a personal loan. The process is tricky and can be challenging to navigate at first. Yet, it can help you repay your debt quickly and save money on long-term interest.
Debt consolidation has two basic types: unsecured and secured.
Secured debt consolidation is a new loan that is taken along with the involvement of an asset. The most common asset used as insurance (collateral) for a new loan is a house. Your house can be collateral for debt consolidation.
Unsecured debt consolidation is a debt that does not need any asset as collateral. These unsecured loans are much more easily available and can offer a low-interest rate. Lower interest is attractive to people struggling with high loan payments. However, there are drawbacks to unsecured loans. Unsecured loans can come with shorter repayment timelines with stricter terms. These consolidated loans may also have a higher fee from the debt consolidation company.
Even though debt consolidation is a good method for repaying your debts, it is not a viable choice for everyone. Debt consolidation can help you get your finances right and keep your head above water as you repay your debt. This is a great option for people struggling with multiple payments each month. However, it is not the right choice for people looking to save money instead of paying high interest. It is always recommended to get in touch with a financial advisor before making the decision to take up consolidated debt.
Pros and Cons of Debt Consolidation
An important note before considering debt consolidation is to judge whether debt consolidation choice for you. Your financial situation and your ability to pay on time are critical factors for debt consolidation. If you are unaware of the drawbacks and the advantages of debt consolidation, read below to find out more.
The Advantages of Debt Consolidation
There are a few advantages of contacting a known company to consolidate your debt:
With debt consolidation, you can save money by opting for a low-interest rate for your new loan. It can help you save money on interest over time.
Debt consolidation can help you simplify your monthly loan payments. It can combine all your debts into one payment and make paying them off much more hassle-free.
With debt consolidation, you can avail a longer period of repayment. This can help you manage your loan and reduce your monthly payments.
The Disadvantages of Debt Consolidation
There are disadvantages of debt consolidation that can make you consider twice. Following are some of the drawbacks of the service:
Debt consolidation is a kind of loan. So, you will still be in debt after you consolidate multiple debts. Choosing the perfect loan smartly is critical for loan consolidation. If you consolidate high-interest debt with a low-interest one, you may incur additional interest over time.
Debt consolidation is only good for people who can afford to pay off the new consolidated loan payments. If you cannot pay off loan payments on the new loan, you may damage your credit score by defaulting on the loan.
How Does the Company, Symple Lending, Run?
As per many customers, Symple Lending is a lender that attracts its customers with tricky bait and switch tactics. The advertisements from the company come directly in the mail, which is a pushy way to promote a business' services. The advertisements hold offers for low-interest rate loans. However, once the customer dials the contact number from the advertisement, the story is entirely different. Clients get assigned to a highly experienced and pressurizing sales team. The experienced sales team pushes clients to sign up for a loan with the company without divulging the entire details. They may try to hide critical details of the loan terms, which has made clients feel wary of them.
As a result of the high-pressure sales pitch, the clients can often sign up for a greater loan that is possible for them to pay. Additionally, this highly damaging sales pitch can cause clients many financial problems. Many Symple Lending reviews detail clients' bad experiences and show it is important to be careful of the fine print of agreements. Without proper debt consolidation knowledge and an eye for detail, anyone can end up with more loans with tricky services.
How do personal loans work?
Personal loans are a type of unsecured loan, which means that they are not backed by any collateral. This makes them a bit riskier for lenders, but it also means that they can be easier to qualify for than some other types of loans.
To get a personal loan, you will need to fill out an application and provide some information about your financial history. The lender will then review your application and decide whether or not to approve you for a loan.
If you are approved, the lender will give you a loan agreement that outlines the terms of the loan, including the interest rate and repayment schedule. Make sure to read over this agreement carefully before you sign it.
Once you have signed the loan agreement, the lender will then send you the money. You can typically expect to receive the funds within a few days.
Once you have the money, you can use it for any purpose you like. However, it is important to remember that personal loans are typically meant for larger purchases or debt consolidation, so you should only borrow as much as you can afford to repay.
If you make your payments on time and in full, personal loans can be a great way to consolidate debt or finance a large purchase. However, if you miss payments or default on the loan, you could damage your credit score and end up owing more money than you borrowed in the first place.
If you're considering taking out a personal loan, make sure to shop around and compare offers from multiple lenders to get the best rate and terms. You can also check your credit score to see if you prequalify for any special offers.
How Can One Qualify for Symple Lending Debt Consolidation?
It is no surprise that with rising prices and inflation, most Americans struggle with paying debts. Whether it be student loans or a house mortgage, you need a viable solution to keep all your debt payments on track.
If you are struggling with managing your debts, you can apply for debt relief help. However, with a variety of debt relief companies in the market, how do you choose the right one? Even after choosing the perfect debt relief company, you need to fit their loan qualifications.
Getting a loan from a debt consolidation company is not as straightforward as you might believe it to be. Symple Lending reviews show that only people with a good credit score and steady income are qualified for the service. Moreover, people who are interested in Symple Lending loans need to show collateral. The collateral for the loan can be accepted as your assets or property. The involvement of collateral makes it a secured loan. This provides the company security against defaulters.
Nevertheless, Symple Lending debt consolidation is not offered to just anyone. If you are a self-employed person or don't have a good credit score, qualifying for loans from the company may be trickier. There may be more options for you available from the company to help you, but the business will not be supportive of debt consolidation for you. However, it is important to keep in mind that a debt consolidation loan is not the only way out of managing debt payments. 
Symple Lending Debt Consolidation Program
Symple Lending's most popular service is debt consolidation loans and personal loans. It is important to note that a debt consolidation loan from the company is not the best, according to Symple Lending reviews. Before applying for debt consolidation with Symple Lending, consider the following points:
● A Good Credit Score:
A good credit score can help you start off your loan with positive terms with lower interest rates. People with bad credit scores can get loans from the company. However, the interest rates may be higher.
● Affordable Monthly Payments:
Before opting for a consolidated loan from Symple Lending, you need to judge if you would be able to afford the loan's monthly payments. In the case when you miss a payment on your loan, you may be charged late fees. This can affect your credit score greatly.
Symple Lending Charges for Debt Consolidation
The company includes multiple fees for debt consolidation. The fees include an origination fee, monthly fee, and late fees. Although they may not sound as exorbitant at first, these fees can calculate up to a large amount. This can make customers unable to pay their debt and sustain themselves at the same time.
Moreover, Symple Lending has also increased its service fees in the past without notice. This can keep customers in debt longer as they struggle to make all payments at the right time.
If Symple Lending doesn't sound like the company you want to work with, you can always look for other options. You may discover better debt consolidation companies that have lower fees.
Minimum Credit Score Needed for Symple Lending Debt Consolidation
The minimum credit score requirements are different for various debt consolidation companies. Just like any other company, Symple Lending has criteria for evaluating the credit scores of potential clients.
Usually, people with a higher credit score are more easily given loans due to their good track record. However, even if some clients have a bad credit score (less than 640), they can avail of debt consolidation loans from Symple Lending. They may have further aspects come into play, for example, a healthy income-to-debt ratio or a steady income.
You can determine your credit score online on websites such as AnnualCreditReport.com. With your credit score, you can judge whether you would be a good fit for Symple Lending's debt consolidation loan.
Can Symple Lending Have a Negative Effect on Your Credit Score?
Debt relief services involve taking out a loan, so the company can affect your credit report. Symple Lending does not stand for late payments and will report them to the credit bureaus. It can greatly affect your credit score negatively.
Affiliation of Symple Lending
We are not sure of the affiliation of Symple Lending with any other reliable company. This may raise an issue of concern about the legitimacy of the business itself. However, we advise people to exercise caution while dealing with debt consolidation companies. If Symple Lending does not seem trustworthy, feel free to choose another service.
Symple Lending's Debt Consolidation Loan Cancellation
To cancel your existing Symple Lending debt consolidation loan, follow these instructions:
Firstly, contact customer services from Symple Lending to tell them of your decision and ask them for cancellation. The representatives from the company may ask for a written copy of your decision. This copy can be sent directly via mail or email. Remember to mention your account number, name, and cancellation date.
After the cancellation, you need to pay back the outstanding sum of your debt. You can pay it all at once in a single payment or request a different repayment plan for your ease with the company. Lastly, once you have completed repaying your loan, your loan with the company will be canceled.
BBB Reviews for Symple Lending
Symple Lending has a BBB rating of A-. The company has been only active for a year and is relatively new in the industry. This may mean clients don't have many reliable experiences with the company, and you cannot rely on the business' prior performance. The company has been in the business for almost a year and has gotten a lot of great reviews. Nevertheless, too many positive reviews can mean something fishy may be going on behind the scenes.
All positive reviews for the company seem to in the same month. However, it may be because the company was accredited at the time, but since every review was five stars, it seems unusual. Moreover, every customer having a perfectly positive experience with the company can be a bit unlikely.
So, before choosing to work with Symple Lending, you need to check out Symple Lending reviews before signing an agreement with them.
Is Symple Lending a Scam or Is it Legit?
When you are considering Symple Lending for debt consolidation or personal loans, you should think twice. Symple Lending is known for using bait and switch techniques and for charging high-interest rates and fees.
There may be other companies that offer better conditions to clients than the terms offered by Symple Lending.
The conclusion is that debt consolidation from Symple Lending is a risky affair. Symple Lending may not be the most ideal choice for loans. Therefore, you should look for other debt consolidation loans that suit your needs.
Thank you for reading!