In a bid to provide its customers with a quick and convenient way to get a loan, Simple Fast Loans is an Atlanta-based lender that offers installment loans in 10 different states across the country. This company is a direct lender, founded in 2018, and claims to be committed to providing a fast and easy way for their customers to gain access to financing. They advertise their services at simplefastloans.com.

Simple Fast Loans Summary
Loans are available in a variety of forms. You want to ensure that you choose the best lender for your specific needs, which can make your decision-making process difficult.
Recently, Simple Fast Loans have received a great deal of attention. Nevertheless, it is important to consider whether this lender is the most appropriate choice for you. To assist you in making an informed decision, let's take a closer look at what they have to offer.
Following a closer look at their website and terms and conditions, we identified some key points. The following are a few of the most notable.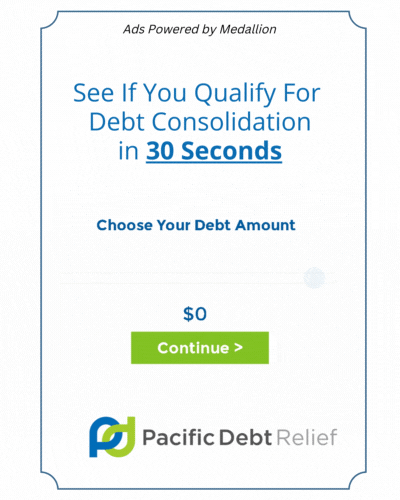 The company offers a variable APR personal loan product but does not disclose the interest rate on it.
A prepayment fee is charged.
The minimum loan amount is $200, and the maximum loan amount is $3,000.
Three-month to one-year term loans are available.
The loans are provided by CC Connect, a division of Capital Community Bank.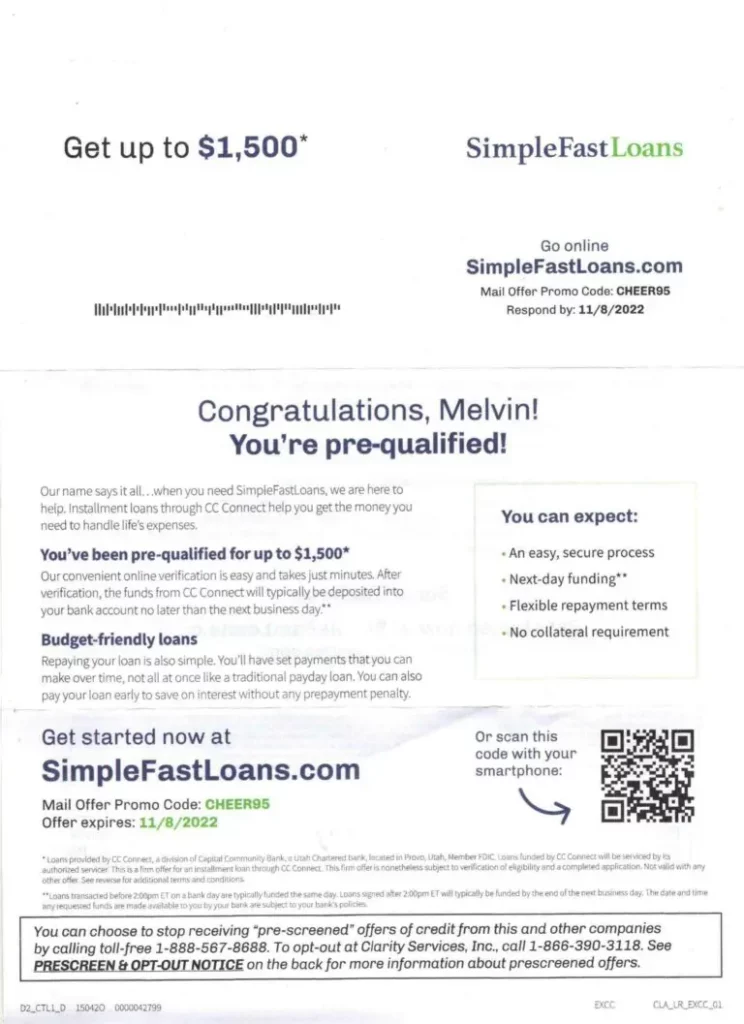 What Is Simple Fast Loans?
For borrowers with bad credit who need quick funding but are unwilling to go through a lengthy application process, Simple Fast Loans offers short-term loans that may be a good option. Several short-term lenders offer fast and easy loans that can prove useful in times of need. The company has been in business since 2018 and is headquartered in Atlanta, Georgia. The telephone number for the company is (855) 214-5363.
The Better Business Bureau has not accredited this business and it has an F rating. In the last three years, they have received an average of 31 customer reviews and resolved 46 complaints. They have received a one-star rating from customers. Their online reviews are overwhelmingly negative.
How Does Simple Fast Loans Work?
Customers in select states can obtain short-term installment loans, lines of credit, and title loans through Simple Fast Loans. In general, loan amounts range from $200 to $3,000, with terms ranging from three to twelve months. You will not be informed of the interest rate or other loan terms until you have submitted your personal information for preapproval. As a result, you will not be able to estimate your costs upfront. This does not affect your credit score.
How To Qualify For Simple Fast Loans
It doesn't matter what your credit score is, Simple Fast Loans don't have a minimum or maximum score. If you have good credit or are working to improve your credit, you can apply for installment loans. To be eligible, you must be 18 years old or the minimum age set by your state.
To ensure you will be able to repay your loan on time, lenders only consider borrowers who are employed and have a regular income.
If you are a US citizen or a permanent resident, you may be eligible for an installment loan.
Your application will require some basic documentation, including proof of identity and a checking account. Upon approval, you will receive your funds quickly and easily and can start repaying your loan right away.
Simple Fast Loans BBB Reviews
The Better Business Bureau does not accredit businesses nor does it maintain a great deal of information regarding them. However, the BBB monitors customer reviews and complaints. There is an F rating for the business with the Better Business Bureau. During the past three years, they have received an average of 31 customer reviews and 46 complaints have been resolved. The company has received a one-star rating from customers. There are a majority of negative reviews on the Internet.
Here are some reviews:
James K 12/14/2022
This is nothing but a scam!!!! They tell you in a letter you're pre-approved and that is a lie!!!! I get this every month!!!! Quit wasting people's time!!!
Karen R 11/04/2022
This is a scam, they sent a letter with a firm offer took all my info then said they couldn't find a lender nowhere does it say they were a broker this is a scam and very unprofessional.
Randy G 10/14/2022
They take all your information verify accounts without your consent E-sign without your consent and steal whatever money you have in the account you have. My wife is currently in the process of a lawsuit with them and they have the feds investigating.
Simple Fast Loans FAQs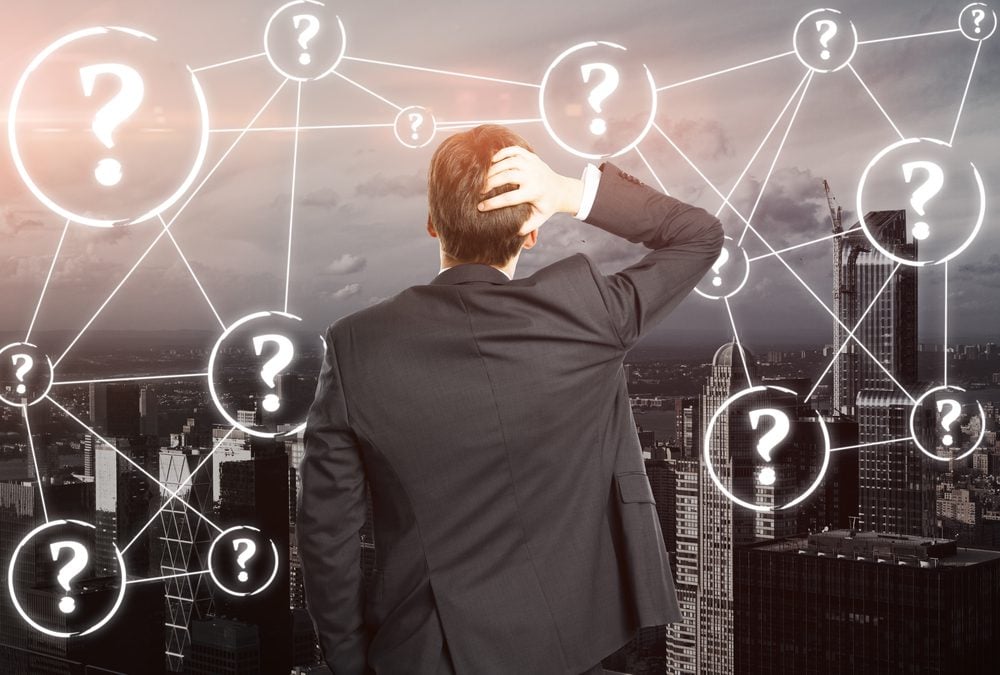 How Much Does Simple Fast Loans Charge?
The Simple Fast Loans company offers personal loans with a variable APR. Although they do not disclose their interest rates, they do charge an origination fee. There are also fees associated with prepayments and late payments.
Do They Charge Pre-Payment Penalties?
There may be a prepayment fee associated with your loan. For personal loans, this is less common, but it means that if you elect to pay off your loan ahead of schedule, you will need to pay a fee.
Does Simple Fast Loans Affect Your Credit?
It is important that you understand the loan application process and how it may affect your credit score before applying for a loan. Initial credit checks will be performed by most lenders, which will not have an impact on your credit score. When you decide to proceed with the loan application, the lender will need to conduct a hard credit inquiry to obtain a complete view of your credit history. Your credit score can be lowered by these hard inquiries.
How To Cancel Simple Fast Loans
It is possible to obtain financial assistance through a personal loan if you need funds for an unexpected expense or a large purchase. Make sure you are confident in your decision before taking out a loan since once the funds are deposited into your account, you cannot reverse the transaction. To avoid complications in the future, double-check everything beforehand.
Having trouble making ends meet? You can get back on track by following these tips.
You should be aware of your spending and create a budget that works for you. You'll be able to keep your finances in order and improve your prospects for the future by doing so.
A financial advisor can be a great resource for explaining your different options and creating a plan that is tailored to your specific needs.
Debt can be a stressful topic for many people, but it is important to remember that there are options available to help manage payments. Many companies are willing to work with customers to create a more manageable payment plan. All it takes is reaching out to their customer service team for more information. By doing this, you can ease some of the stress associated with debt.
Is Simple Fast Loans Legit Or A Scam?
Simple Fast Loans is a direct lender that has been in business since 2018 but has received complaints from many customers. The Better Business Bureau does not accredit them and gives them an F rating. Additionally, they have a 1-out-of-5 star rating from an average of 31 customer reviews, and 46 closed complaints in the last three years.
Loan repayment terms and interest rates vary from lender to lender. Comparing offers from different lenders is the best way to get the best deal. It is important to read customer reviews before choosing a lender.
Have you worked with simplefastloans.com? Don't hesitate to leave your experience and review below!
Thank you for reading.