If you're struggling with debt, like millions of people are, you may be looking for a way to consolidate your debt, request a loan and get your finances back on track. If that's the case, you may have come across Mobilend – offering rated loan network loans. They claim to help you find the best debt consolidation loan lenders. But is Mobilend legit? Or is it a scam? In this blog post, we'll take a closer look at Mobilend and see what it offers customers.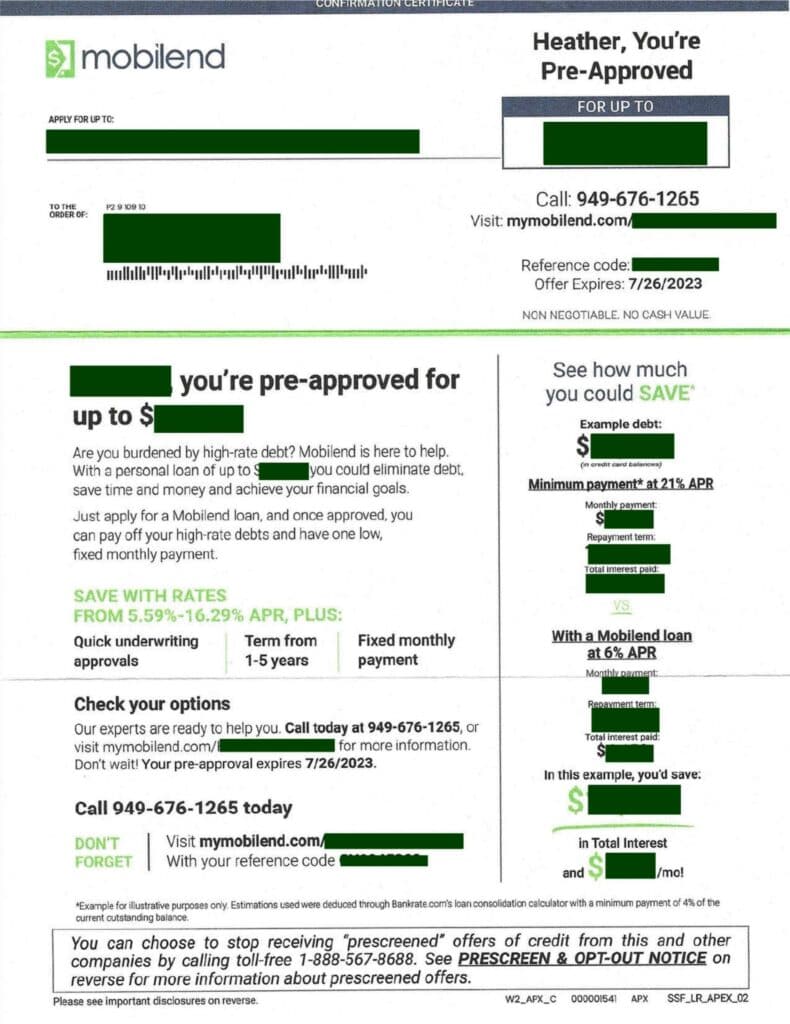 Mobilend is not actually a lender, they are a third-party company that finds lenders for you. What this means is that they will not fund your debt consolidation loan themselves. Instead, they will work with you to find a lender that works for your financial needs. This may be beneficial when shopping around for different options and comparing rates, but it can also be risky since you will be dealing with a middleman instead of direct negotiation with the lender.
The main concern with Mobilend is that they are a lead-generation company; they take your information and sell it to the highest bidder – which could be any number of lenders, including those who may not have your best interests at heart. This is how they make money and are able to provide their services for free or at a very low cost.
There are many other ways to find consolidation loan lenders without using a lead-generating company like Mobilend. You can find lenders whoa re willing to work with you directly. If you do decide to use Mobilend, be sure to read the fine print carefully before signing any paperwork. And remember: always trust your gut when it comes to companies like this. If something feels too good to be true, it probably is.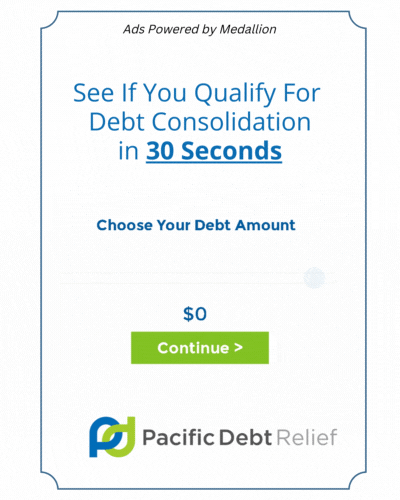 What is Mobilend?
Mobilend markets itself as a debt consolidation provider but is not, in fact, affiliated with any lender. Mobilend is actually a lead-generating company that works with debt consolidation loan lenders and not a lender themselves. In other words, they are a middleman that tries to get potential borrowers to lenders, which can sometimes be risky since the terms and conditions of the loans and interest rates are not always transparent. Borrowers should be aware that they may end up repaying more than they agreed to if they end up using Mobilend's services.
How does Mobilend work?
Mobilend offers their customers the ability to fill out one application and have it sent to multiple lenders. This saves the customer time and gives them more options to choose from. However, it also means that the customer's information is sold and shared with multiple companies, which could lead to privacy concerns.
Additionally, because Mobilend is not a lender, they cannot guarantee that the customer will get the best deal possible. The customer may end up paying more in fees and interest than they would have if they had gone directly to a lender. Overall, Mobilend seems like a company that could be helpful for some people, but it is important to be aware of the potential downsides before using their services.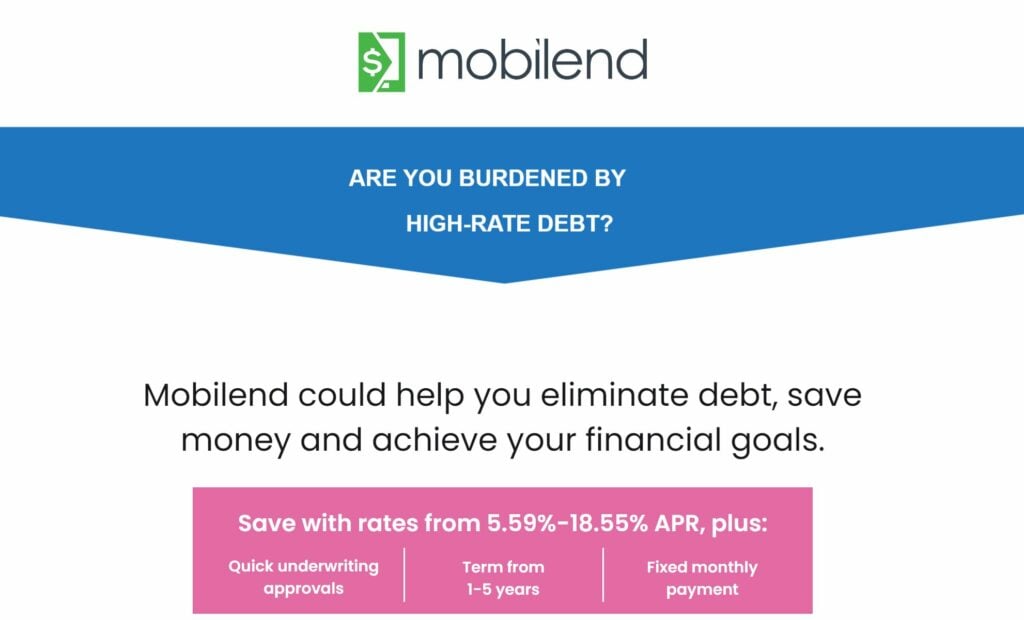 Pros and Cons of using Mobilend
If you're dealing with debt and are in the market for a debt consolidation loan, you may have come across Mobilend (offering rated loan network loans) and their offer to help you shop around and find the best lender and deal possible for your needs. However, there are more cons to using Mobilend than pros.
One of the main concerns regarding their business practices is not all the lenders they work with are reputable. Some of the lenders they recommend have been accused of shady practices such as bait-and-switch tactics and not fully disclosing the terms and rates of their loans. This can leave customers with high interest rates or even paying more than they initially intended to.
Aditionally, the terms and conditions can be very confusing since you will not be dealing with the lender themselves, and some information can be lost in the fine print if you do not read carefully or are not familiar with the lending process. They may recommend a lender claiming they have the best fees and annual percentage rate (APR) to persuade you into accepting the loan, only to then find out you agreed to terms that are not in your best interest.
When did Mobilend start?
The company Mobilend was founded on June 22, 2015, and started providing services on September 14, 2016. The company doesn't lend debt consolidation loans but works with many different lenders who do provide this service.
How to qualify for a Mobilend loan?
We have already advised that Mobilend is not a lender, but there are qualifications you must meet in order to qualify for their network of lenders, which include:
Having a job or a source of income. This income can be from Social Security, disability, child support, alimony, or any other form of government benefits.
Having an active checking bank account and a working phone number.
If you meet all of these qualifications, you should be able to qualify for their services and get a loan.
What is Mobilend's website?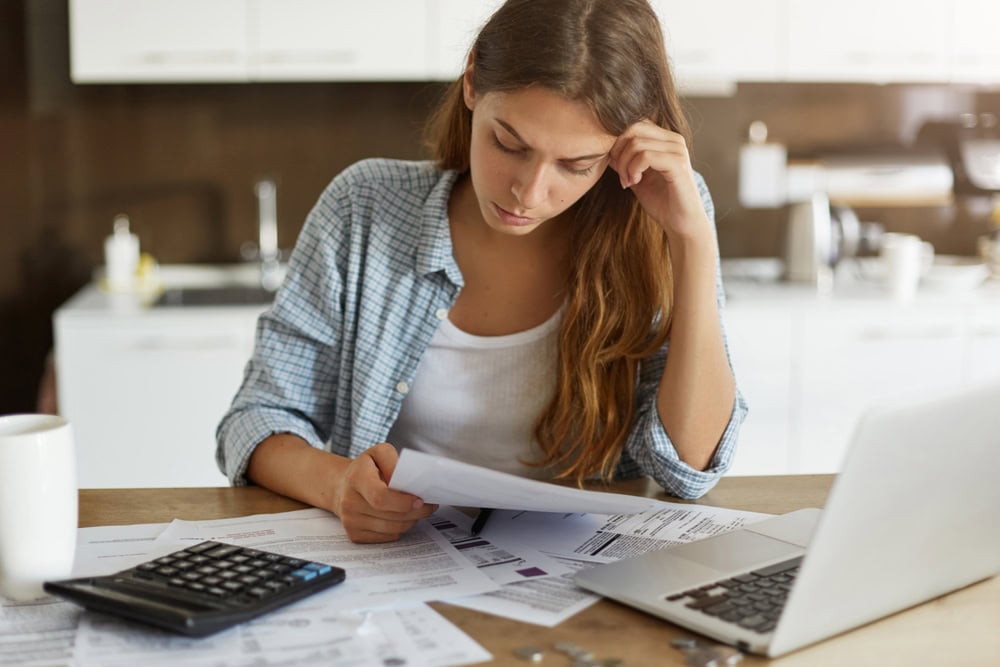 Mobilend currently has two websites, mobilend.com and mymobilend.com.
One of the reasons these websites are suspicious is because their WHOIS information isn't public. This means we don't know who owns or operates them, which can leave customers feeling blindsided.
Secondly, both sites advertise services provided by the same business but have different logos. This could mean they are run by the same people but they are trying to hide the bad reputation from the first website by positioning a second website with no bad reviews or complaints.
If you're thinking about doing business with them, be sure to do your research and only deal within a company that has transparent ownership information.
Does Mobilend charge any fees?
Since this company is not a lender, they do not charge any fees. They market themselves with free consultations, no account maintenance or escrow service fees, no application fee, no transaction fee, and no managed account fee.
However, considering they are a lead-generating company, they do earn commissions from the companies to whom they sell your information. These commissions are used to offset the cost of running their business and do not increase the fees you pay for your loan.
If you have questions about the fees associated with your loan, please contact your lender directly.
How much does Mobilend save you?
Mobilend is a lead-generating company that can help you find lenders. They are not lenders and don't make decisions about your loan, they simply collect information from you, pass it onto their partnering lenders who will decide whether or not to approve your application.
There is no fee associated with their service and they do not guarantee that you will be approved for a loan. If this happens, there's nothing they can do to help you work through your problem since the company doesn't have any money at risk, so we recommend talking directly with lenders who offer better personalization or more competitive rates.
What is the minimum credit score for a Mobilend loan?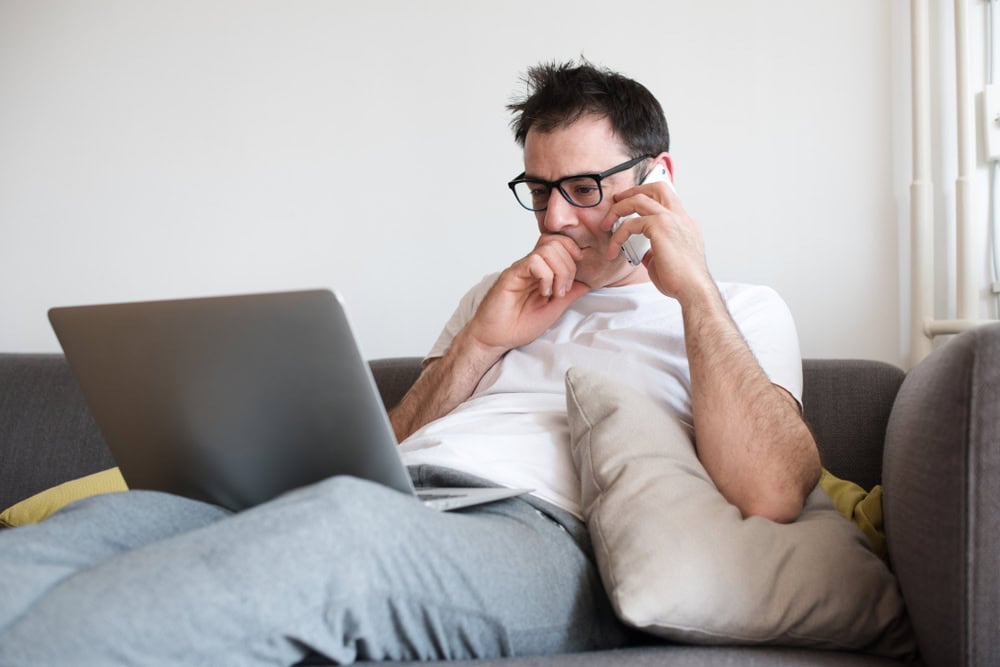 As with any other lender, Mobilend will take your creditworthiness into account when referring you to their partners. Your credit score is one factor that lenders use to determine whether or not you're a good candidate for a loan.
While Mobilend doesn't publicly advertise what the minimum credit score is for their partners' loans, we've found that 640 is generally the cutoff. If your score is below 640, it's unlikely that you'll be approved for a loan from mobilend.
Of course, there are always exceptions to the rule and there's no guarantee that you won't be approved for a loan if your credit score is below 640. However, if your score is on the lower end, it's best to explore other options.
If you're not sure what your credit score is, you can check it for free on sites like Credit Karma or Credit Sesame. Once you know your score, you can start shopping around for loans from different lenders. Remember to compare APRs, fees, and repayment terms before choosing a loan so that you can get the best deal possible.}
How does Mobilend affect your credit?
In order to understand how Mobilend affects your credit, it's important to first understand what a hard credit pull is. A hard credit pull occurs when a lender requests your credit report from one of the three major credit bureaus (Experian, TransUnion, or Equifax). This request can ding your score by a few points, and too many inquiries can signal to lenders that you're desperate for cash.
Mobilend makes things even worse by adding a hard inquiry to your report every time you apply for a loan through their platform. So if you're hoping to use Mobilend as a way to improve your credit score, think again – you're actually doing more harm than good. In fact, it's best to avoid Mobilend altogether if you're concerned about your credit score. There are plenty of other lenders out there who won't damage your credit just for applying for a loan. Choose one of them instead.
Is Mobilend a debt settlement company?
No, Mobilend is not a debt settlement company. They are a lead generation company that works with businesses in the debt relief industry. While they do not provide debt relief services themselves, they are able to refer you to one of their partners who may be able to help you settle your debts.
How to cancel Mobilend?
If you're not happy with Mobilend for any reason, you can cancel your account by contacting their customer service team. All they need is your account number and the reason for cancellation. Once your loan is canceled, you will no longer be obligated to make payments for it.
You should be aware that canceling your loan will still require you to pay the balance in full. If there is anything about this process or questions, please contact their customer support for assistance.
Mobilend BBB Reviews
If you're considering working with Mobilend, you'll watch to check out their BBB page first. They do not have the best reputation with the Better Business Bureau, even though they have a A+ rating. The reason for this rating is that they are accredited, they still have 1 out of 5 stars when it comes to customer reviews and complaints.
Here are some Mobilend BBB Reviews:
David M 03/25/2022
***** Received an email claiming I was turned down for a loan by them, but I had never contacted nor heard of them before. When trying to call them (multiple phone numbers were fake) one line (local in ******, **) went to a message that due to extremely high call volume they couldn't take my call. The Next attempt was to one of their MANY toll-free numbers and after waiting on hold for 10 minutes, the same message as before, but this time asking for me to leave a message. The remaining attempts (5 more) were to lines that were not valid and did not work. This is a SCAM trying to steal people's information. Stay away at all costs!
Is Mobilend a legitimate company or a scam?
You may have heard of mymobilend.com through their many ads or by looking for debt consolidation loans and lenders online. But is the company legitimate? Or are they part of the many companies that lure desperate customers in with false promises when they are in need of money?
If you're considering using Mobilend, it's important to know that they are not a lender themselves. Instead, they sell your information to lenders who may or may not be legitimate. This can lead to bait-and-switch tactics, where you're promised one thing but then given something else entirely. In short, it's best to avoid Mobilend altogether and find a more reputable lender.
So remember to always research the companies you are going to do business with, such as their BBB ratings and reviews, reading the fine print of their terms and conditions, and always comparing different options in order to make the most informed decision you can.
Have you had any experience with Mobilend? Share your story in the comments below.
Glossary
Minimum Credit Score: A minimum credit score is a number that lenders use to decide if you are eligible for a loan or not. It is based on your credit history and is typically between 300-850.
Debt Consolidation: Debt consolidation is a financial tool that allows you to combine multiple debts into one loan with a lower interest rate, potentially saving you money and simplifying your debt repayment.
Debt Consolidation Reviews: Debt consolidation reviews provide information on the different companies and services offered to help individuals manage their debt. These reviews can include information on fees, interest rates, customer service, and other factors to help determine which option is best for the individual.