Debt consolidation can be a life raft for many drowning in a sea of multiple high-interest loans, with several companies vying to be the one to bring you back to shore. One such company is LendMarc, but as with all promises of financial relief, it's essential to dig a little deeper before jumping on board.
The Better Business Bureau (BBB) and Trustpilot, two platforms known for their user-based ratings and reviews, provide some insight into LendMarc. However, what we find there raises some vital questions about the company's reliability and reputation.
In an industry rife with controversies and skepticism, due diligence is not just recommended but a necessity. When it comes to debt consolidation, like the famous saying goes, "if it's too good to be true, it probably is." Therefore, this article aims to critically review LendMarc, delve into its offers, and juxtapose it against other well-known players in the field.
Remember, your financial future is at stake here. Therefore, navigating these waters with caution is the prudent approach. Stay tuned to find out more about what's beneath the surface of LendMarc's debt consolidation services.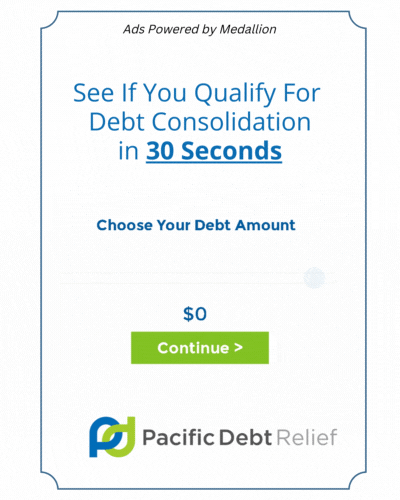 LendMarc: Company Background
Diving into the background of LendMarc, it's interesting to note that the company is relatively new to the debt consolidation industry. Established in 2017, LendMarc has been riding the wave of the burgeoning demand for debt consolidation services for only a few years now. The company's foundational principles seem promising on paper, aiming to provide clients with flexibility and control over their financial future. However, the reality, as it often happens, is somewhat murkier.
Several real-life testimonies and case studies raise questions about LendMarc's promises and practices. One glaring example is a lawsuit filed against LendMarc in 2018, alleging violations of the Telephone Consumer Protection Act. The plaintiff claimed that LendMarc contacted her on her cell phone without consent, signaling a disregard for ethical business practices.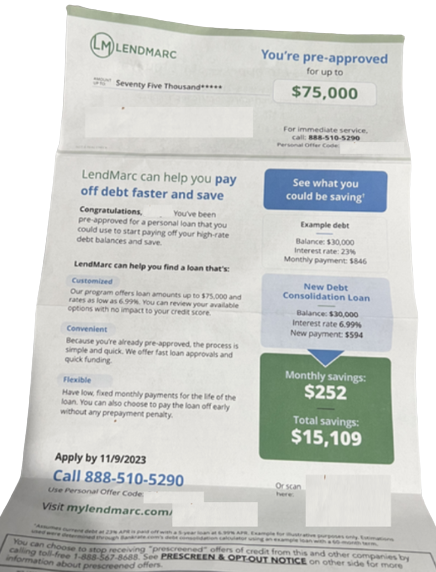 Moreover, some customers have gone on record stating that the company's debt consolidation services did not alleviate their financial distress as promised but instead led to more complex financial problems. These cases remind us of the movie "The Wolf of Wall Street," where a company's flashy promises and high-pressure sales tactics mask a much less glamorous reality.
Despite these controversies, LendMarc continues to operate and market its services to individuals struggling with debt. It's important to remember that while any company can make grand claims about its services, it's the delivery on these promises that truly matters.
As it stands, LendMarc's track record is less than stellar, and prospective clients need to bear this in mind. The debt consolidation industry is vast, and there are numerous alternatives out there, some with proven track records and glowing customer testimonials. You may want to think twice before handing over your hard-earned money to LendMarc.
Products/Services
LendMarc promotes its debt consolidation services as the solution to your financial woes. But how closely does their rhetoric match their reality? Let's take a closer look.
LendMarc's debt consolidation products claim to decrease your overall debt, lower your monthly payments, and thus, reduce your financial burden. However, their strategy primarily involves taking out a new loan to pay off your existing debts. This means you're still in debt; the only difference is that you owe money to LendMarc now instead of your previous creditors.
The company also promises a swift and straightforward application process with no hidden fees. But if we scrutinize some of the customer reviews on BBB and Trustpilot, a different story unfolds. Customers have complained about unexpected fees, lack of clarity in the loan terms, and a general lack of transparency.
If you selected 'Yes,' how would you rate your experience? Options: Very Satisfactory, Satisfactory, Neutral, Unsatisfactory, Very Unsatisfactory
These customer testimonials raise serious doubts about the effectiveness and reliability of LendMarc's services. Customers have reported not only a lack of the promised financial relief but also an increase in their financial burdens due to unexpected fees.
Furthermore, LendMarc's customer service seems to be another area of concern. Several customers have expressed their dissatisfaction with the way their queries and concerns were handled, which adds another layer of skepticism to LendMarc's offerings.
To sum up, while LendMarc's debt consolidation services may appear tempting at first glance, navigating through the customer reviews and experiences, one might argue that their claims are far from being the panacea to your debt problems. It's always a good idea to consider the experiences of those who have tried the service before making a decision, and in the case of LendMarc, the cautionary tales are hard to ignore.
Risks and Controversies
In this section, we venture into the potential risks and controversies linked to LendMarc. So, let's take a deep breath and plunge in.
First off, and perhaps most alarmingly, LendMarc has been the subject of a few lawsuits over the years. These lawsuits allege that the company has violated several regulations, including the Telephone Consumer Protection Act we mentioned earlier. Facing legal action for potentially unethical practices should ring alarm bells for anyone considering using their services.
And while we're on the subject of controversies, the company's seemingly unending stream of customer complaints is also a major cause for concern. Customers claim to have experienced misleading sales techniques, hidden fees, and poor customer service.
But don't just take our word for it. Let's put it to a vote.
The results of this survey should give you a pretty clear snapshot of what it's like to deal with LendMarc. And based on the feedback we've seen so far, it's not a pretty picture.
In summary, the potential risks of dealing with LendMarc are glaringly apparent. While the company may promise to help you regain control of your finances, the reality may be a far cry from this promise. If you're thinking about using LendMarc's services, it's crucial to be fully aware of these risks and approach with caution.
Comparative Analysis
When assessing the worth of a company's offerings, it's often helpful to compare them to industry standards, or similar services offered by other companies. In this case, we're going to stack up LendMarc against debt consolidation industry leaders ClearOne Advantage and Pacific Debt Relief, as well as other well-known companies with mixed reviews, such as Tripoint Lending and Credit 9.
ClearOne Advantage: Known for its comprehensive debt consolidation programs and high customer satisfaction rates, ClearOne Advantage offers a stark contrast to LendMarc. ClearOne Advantage boasts an A+ rating on BBB, with positive customer reviews highlighting its professional service and successful debt reduction strategies.
Pacific Debt Relief: Another benchmark in the industry, Pacific Debt Relief stands out for its transparency and excellent customer service. Their BBB rating of A+ and the positive reviews on Trustpilot are testament to their consistent service.
Tripoint Lending: This company has a mix of reviews, with some customers satisfied with their service and others voicing complaints about high interest rates and fees. However, even with its mixed reviews, Tripoint Lending has a higher average rating than LendMarc on Trustpilot.
Credit 9: Credit 9, similar to Tripoint Lending, has a variety of customer reviews. Despite some negative feedback, their average customer rating on BBB is still significantly higher than LendMarc's.
Check out our reviews on these companies here:
As the comparison reveals, LendMarc falls short when measured up against its competitors. Whether it's customer satisfaction, transparency, or BBB rating, LendMarc struggles to compete with its industry counterparts.
The lesson here is clear: in the world of debt consolidation, there are other, more reliable options available that can help you regain control of your financial future. Explore them before you make any commitments.
Conclusion
In conclusion, LendMarc's debt consolidation services raise more questions than they answer. From their questionable business practices to their subpar customer service, the company falls short of their own claims and the industry standards set by competitors. Their low ratings on BBB and Trustpilot only further support these findings.
Just like the surprising twist at the end of a suspenseful movie, LendMarc's true colors seem to reveal themselves only after customers have taken the leap. However, unlike in a film, there's no turning back the clock when it comes to financial decisions.
Before diving in, it's crucial to do your due diligence – research the company thoroughly, read customer reviews and, most importantly, compare LendMarc with its competitors. The debt consolidation industry is full of alternatives, many of which have proven to be reliable and effective in helping customers regain control over their financial future.
---
In the words of the memorable film character Forrest Gump, "Life is like a box of chocolates. You never know what you're gonna get." However, when it comes to choosing a debt consolidation company, you don't want to be caught off guard.
---
So before you make a decision, consider taking a look at our in-depth comparison chart of various debt consolidation companies. With this, you can make an educated decision that suits your needs best.
Check out our comprehensive debt consolidation comparison chart here.
In the end, what LendMarc underscores is the importance of skepticism in a world where companies are quick to make grand promises. With careful consideration and proper research, however, you can avoid falling into a financial pitfall and choose a path that leads to true financial relief.
FAQs
What is LendMarc and what services does it offer? LendMarc is a company that claims to provide various financial services, including lending. However, it's critical to carefully investigate their offerings, track record, and reliability before using their services.
Who regulates LendMarc? LendMarc asserts that it is regulated by the relevant financial authorities. However, potential customers are strongly advised to independently verify this information to ensure consumer protection standards are upheld.
What's the interest rate for loans from LendMarc? The interest rates for loans from LendMarc may vary depending on several factors. It's crucial for potential borrowers to fully understand the interest rates and any additional charges before entering into any agreement.
What is the track record of LendMarc in terms of customer service? Customer experiences with LendMarc vary widely. As with any provider, potential customers should seek out reviews and testimonials to gauge the quality of service before engaging with the company.
Can LendMarc's loan be repaid early? LendMarc's policies on early loan repayment are not entirely clear. Prospective borrowers should clarify this upfront as penalties for early repayment can significantly impact the total cost of the loan.
Does LendMarc have any hidden charges? As with any financial company, there may be extra charges or fees associated with LendMarc's services. Potential clients are advised to thoroughly understand these charges before finalizing any agreement.
What is the approval process for loans at LendMarc? The approval process for loans at LendMarc may vary and may not be entirely transparent. Potential borrowers should ensure they fully grasp the process, its duration, and the criteria for approval before applying.
What measures does LendMarc take to secure customer data? While LendMarc asserts that they take measures to secure customer data, it's important for potential clients to inquire about these measures and evaluate their adequacy given the sensitivity of personal financial information.
How reliable is LendMarc? The reliability of LendMarc is a matter of debate. Some customers report positive experiences, while others have raised concerns about the company's practices. Thorough research and perhaps even seeking independent financial advice are recommended before making any decisions.
Are there any legal issues or controversies involving LendMarc? The existence of any lawsuits or controversies involving LendMarc is unclear. Potential clients should research this aspect as part of their due diligence process.