In the realm of personal finance, securing a loan that fits your unique needs and financial situation can be a daunting task. With its direct mail offers, Ladder Loans, a direct lender, is making waves among the debt consolidation options available. This comprehensive review will examine Ladder Loans, explore how it works, its pros and cons, and ultimately decide if it is a legitimate loan.
What Is Ladder Loans?
The direct lender Blue Front Financial, LLC is Ladder Loans. As a result of the name 'Ladder Loans', they offer flexible borrowing options with an emphasis on helping individuals get out of financial difficulties from existing loans faster.
It was founded in 2022 with the purpose of simplifying monthly payments for individuals facing financial distress. The company has recently gained attention from potential borrowers who received an Invitation Code for what they call a Flexible Personal Loan. But what does it actually say? Is the information accurate?
This is what we found when we investigated their website and the fine print of their loan offer: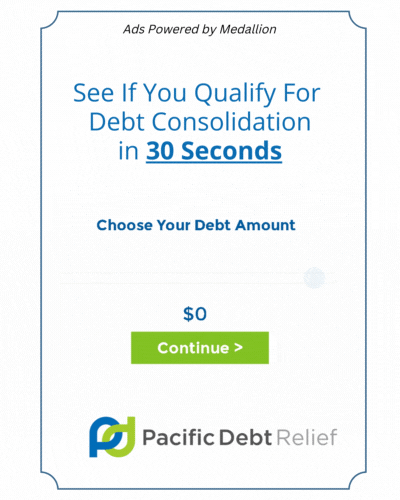 In addition to lending, ladder loans also provides loan referral services. Evvo Financial provides all loan brokerage services.
With repayment terms ranging from 12 months to 60 months, loan amounts range from $50,000 to $100,000.
You will be given an APR based on a verification of your credit and other criteria at the time of application, which will vary depending on the individual lender's terms.
There is no guarantee that every respondent to their offer will qualify for a loan or receive an offer with the maximum loan amount.
In order to apply, you must provide a personal invitation code.
How Does Ladder Loans Work?
The application process for Ladder Loans is straightforward. After entering your Invite Code, prospective borrowers fill out an online application providing their personal and financial information, followed by a credit check. In case the loan is approved, it is deposited directly into the borrower's bank account.
Despite having a personal Invite Code, borrowers may be denied a loan based on creditworthiness, loan availability, state laws, and other factors.
Benefits and Drawbacks of Ladder Loans
The primary advantages of Ladder Loans include:
Their repayment terms range from 12 months to 60 months.
Loan funds are disbursed within one business day after the application process is complete.
As with any financial product, Ladder Loans have their drawbacks.
Late payment can lead to additional charges, and interest rates can be higher than traditional bank loans.
There is a $50,000 minimum loan amount.
BBB or similar organizations do not accredit the company.
Ladder Loans BBB Reviews and Complaints
In addition to not being accredited by the Better Business Bureau, Ladder Loans only has five customer reviews, averaging only 1 star out of 5.
Their BBB reviews are as follows:
Cancelling a Ladder Loans Personal Loan
In order to cancel a Ladder Loans personal loan, you must directly contact customer service. You can reach them by phone or email.
You may be subject to penalties or charges if you cancel a loan, so you should read and comprehend the terms and conditions of your loan agreement before canceling.
If your loan has not yet been disbursed, you may be able to cancel it without incurring any penalties. However, if your loan has already been disbursed, you may need to repay it as soon as possible, along with any accumulated interest.
Conclusion: Is Ladder Loans a Scam or Legit?
Despite the fact that ladder Loans appears to be a legitimate lending service offering invitation-only installment loans to borrowers needing extra money, the majority of the customer reviews online are negative, with a score of 1 out of 5 stars on the Better Business Bureau.
It has been alleged that the company uses a bait-and-switch tactic by attracting customers with their attractive offers and then offering them higher interest loans, while others claim that debt settlement services were offered instead. It is always imperative that prospective borrowers do their due diligence and conduct a thorough research before making any financial commitments.
Please share your experiences with Ladder Loans in the comments below. Your insights could help others make informed decisions. Feel free to share your questions or thoughts about Ladder Loans in the comments section below. Let's make personal finance a conversation!
FAQs
How much is the APR for Ladder Loans?
Loan interest rates fluctuate based on the borrower's credit score and state regulations. Ladder Loans' Annual Percentage Rates (APRs) range from 5.49% to 26.99%.
Is it possible to get a Ladder Loans loan with bad credit?
Individuals with bad credit can apply for Ladder Loans, but approval is not guaranteed and is dependent on a variety of factors, including your current financial situation.
Is Ladder Loans going to hurt my credit score?
You may temporarily see a drop in your credit score if you apply for a loan after being pre-approved.
Are Ladder Loans repayable early?
Generally, you can pay off your ladder loans early. However, it is advisable to check your loan agreement for any potential early repayment fees.