FlexLending is a company that originates and services loans funded by Transportation Alliance Bank, Inc. DBA TAD Bank. The company advertises installment loans on its website at myflexlending.com.
FlexLending Summary

FlexLending is a personal loan company that has recently gained popularity. We decided to investigate and see what they were all about.
We uncovered some interesting facts while investigating their website and terms and conditions.
Loans come from Transportation Alliance Bank, Inc.
Loan amounts up to $2,500 are available to help you with whatever you need.
An example of their APR would be: For a $900 loan, there would be weekly payments of $36 with a finance charge of $939 and a total amount of $1,839. The APR would be 165%.
They provide installment loans with simple interest and all-online payments. This unique system allows for easy access and management of finances.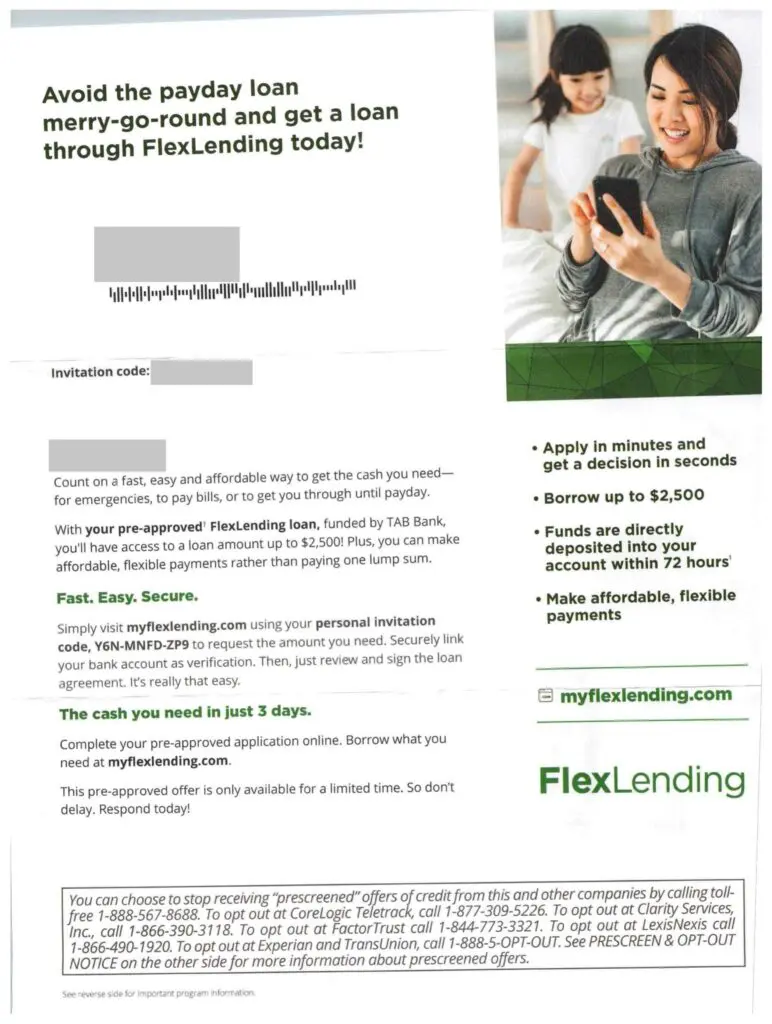 What is FlexLending?
At FlexLending, they originate and service loans for TAB Bank. They are located in Boca Raton, Florida, and you can reach them by phone at (855) 536-3440.
Flexlending is not accredited by the Better Business Bureau (BBB). On their file, they have an average of 5 customer reviews and 3 complaints closed in the last 3 years. They have only 1 star out of 5.
FlexLending offers online installment loans with simple interest rates and payments, all made online.
How does FlexLending work?
Finding yourself in need of some extra cash can be difficult and stressful. With Flexlending, you can apply for a loan of up to $2,500 and create a payment plan that fits your unique financial situation. They consider many factors when determining your eligibility, so you can choose the loan amount that's right for you.
How to qualify for FlexLending?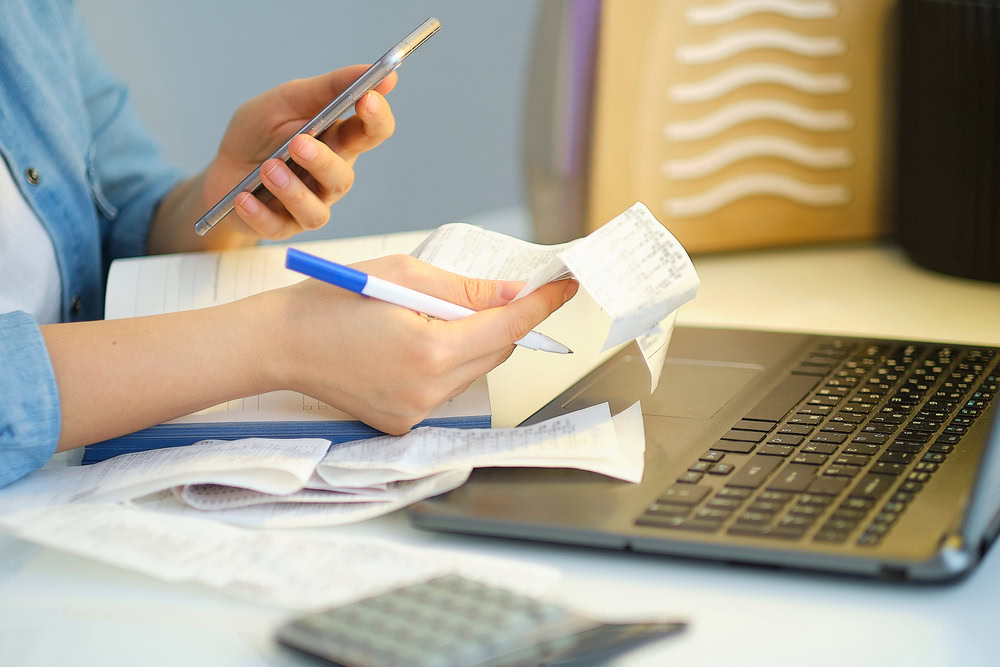 To be eligible for a loan from Flexlending, you must be at least 18 years old (21 or over in MS), have a valid SSN/ITN, email address and phone number, and a mailing address. You'll also need to have a minimum monthly income of $1,000, and an active checking account that is in good standing. Unfortunately, they currently do not offer loans to active duty service members.
FlexLending BBB Reviews
Flexlending is not accredited by the Better Business Bureau (BBB) and has a B rating from them. They also have an average of 5 consumer reviews and 3 complaints. The company has a 1 out of 5-star rating.
Here are some FlexLending reviews:
Aerielle L 08/18/2022
This company took it upon itself to mail out a letter to me THREE TIMES, telling me I was pre-approved for a loan up to $2500. When I finally decided to give them a chance and take them up on their offer, they told me my application was denied despite nothing in either my financial situation or credit had changed. So, not only did I have my time wasted, but I also received an unnecessary hard inquiry on my credit report for absolutely no reason.
Not only do I meet all of the requirements that they outlined on their website that supposedly determine if you qualify for a loan with them, but I EXCEED them. I don't know what they're getting out of lying to and conning people like me into submitting an application with them, but I hope it's worth it.
This company is the definition of a predatory, conniving, company that seemingly gets joy out of helping to ruin random, innocent, already struggling, people's credit without any reason or provocation. RUN FAR AWAY FROM THIS COMPANY, and I use the term company extremely loosely!!
Kevin M. 08/15/2022
"My Flex Lending" is absolutely the worst financial institution I have ever attempted to perform a transaction of any kind with. My review can only begin to outline the experience a consumer can expect if they fall for the lies this bank uses to draw them in. Some of their practices should be (and I have found "our") illegal. I was not surprised to find that they are already being examined by reputable people such as the BBB and Banking Affairs.
There's not anything I would enjoy more than to elaborate in more detail about the deception tactics they practice and the effects they can have up to and including destroying the common consumer's life. Under the advisement of an attorney, all I can share with my fellow society is BEWARE and do your homework before committing your good word.
Check with the ones that know better than I do, such as the Better Business Bureau. I am giving these folks a One (1) Star rating for the only reason being that there is not an option to provide a "negative" value of a Stars rating.
Christopher C 08/10/2022
I believe *** C put it best. And their response is WRONG. What regulatory practices do they adhere to? They're a predatory lender, period. Present one thing, and give another, with terms that accommodate only them. Essentially, they are loan ******. 100%+ interest rates. What state would allow this legally if you're not jumping through some loophole? It's BAD business practice. Even worse – TAB bank gives the funds – and SST/Flex (one and the same) manages the account. So my guess is, Flex/SST are the interest gougers, and TAB gets some cut.****.
Sherry W 05/24/2022
I am going through a hardship and have a 100% on-time payment history and still get denied for just a small loan. Ridiculous and frustrating that lenders and creditors don't give a crap!!! Good luck to anyone else who needs help, hopefully, they'll help you.
My Flexlending FAQs
What are Flex Loans on FlexLending?
Personal loans should be flexible in order to work for you, not the other way around. With a flexible loan, you can choose how much to borrow and for how long, without having to worry about prepayment penalties.
Flex Loans are available for online application only. Once approved, funds will be made available to help cover your expenses.
What is the interest rate on FlexLending?
Their website states that their Annual Percentage Rate (APR) is 165%.
For a loan of $2,500, you would pay back an estimated total of $5,034, including interest.
Loan Amount: $2,500
Weekly Payment: $97
Finance Charge: $2,534
Total Amount: $5,034
APR: 165%
How do you pay back FlexLending?
As long as you have supplied the necessary information and paperwork, they will finance your loan within 72 hours. All aspects of the loan can be handled through their app or website – from making payments to checking balances, and everything in between.
In just over a year (52 weeks), this loan will be paid off in full.
What happens if you don't pay FlexLending?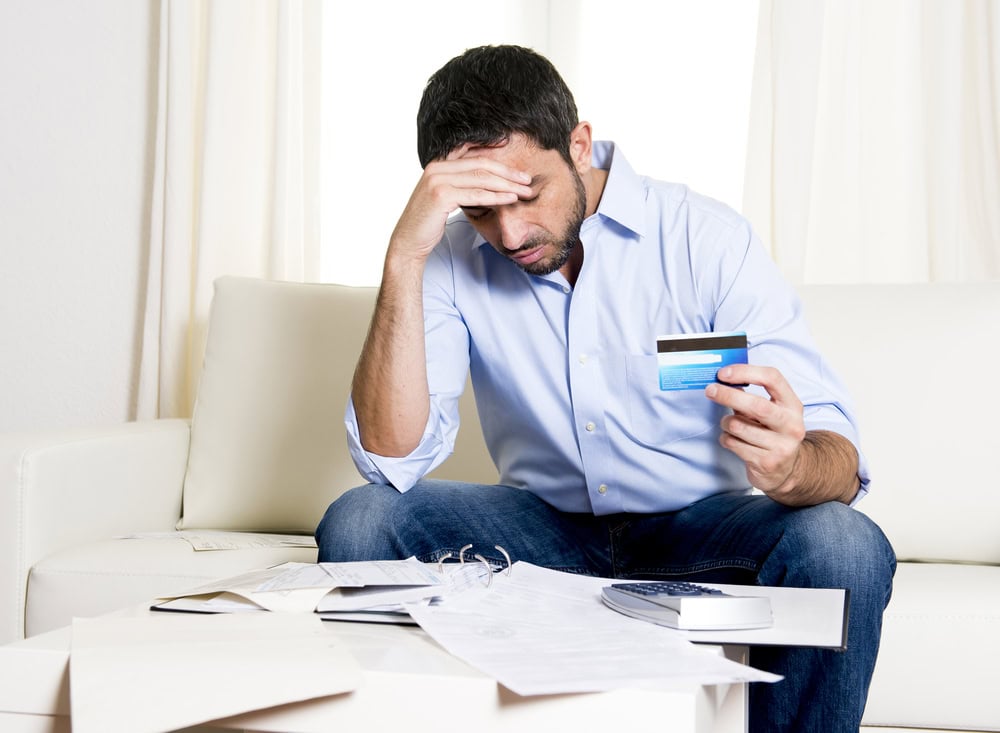 FlexLending payments that are not made on time may result in late fees. Additionally, any unpaid amounts may also be subject to Dishonored Check fees.
What is the minimum credit score for a FlexLending loan?
FlexLending advertises its services also for borrowers with less-than-perfect credit, so you may still be approved for a loan if your credit score isn't excellent.
How does FlexLending affect your credit?
During the application process, your potential lender may check your credit score using a hard credit inquiry. This could have a negative impact on your credit score.
How to cancel FlexLending?
Canceling your loan with FlexLending is not an option once the loan amount has been credited to your bank account. You must cancel your loan before the money is disbursed in order to avoid any penalties.
It can be difficult to make payments on a flex loan, but the best thing to do is reach out to customer service. They may be able to help you out.
Here are a few tips that may help you:
Making and sticking to a budget is crucial in order to avoid difficult financial situations.
Financial advisors can help you understand your options and develop a plan that is right for you. They can provide guidance on investments, retirement planning, and more.
Contact their customer service department: They may be able to help you set up a more manageable payment plan.
Is FlexLending legit?
After our research, we have concluded that myflexlending.com is a legitimate company. Although they are not accredited by the Better Business Burau (BBB), they do have a B rating. However, most of the consumer reviews are negative, resulting in a 1 out of 5 stars rating.
There are a few things to keep in mind before selecting a business to work with. It is crucial that you take the time to research various companies and read customer reviews. This will allow you to make an informed decision and choose the company that best suits your needs.
Do you know anything about FlexLending? We want to hear your thoughts in the comments section below.
Thank you for reading.