Crestridge Funding Review – Debt Relief Loan Services
Did a pre-approved loan advertisement from Crestridge Funding arrive in your inbox?
Were you among the few ones shortlisted for the offer?
You might have received a message stating, "You're pre-approved for $57,250 through Crestridge Funding".
Did you also receive a reduced monthly payment plan of $250 down from $1512?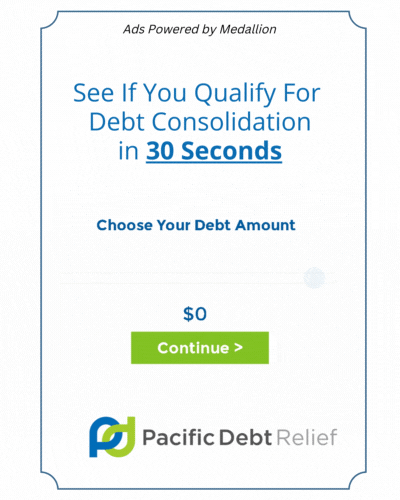 If the answer to all the above questions is yes, it is the best time to find out what Crestridge Funding is about. The company does not offer direct loans. It is a lead generation platform for third-party loan companies.
Crestridge Funding has been the talk of the town lately. While some people believe it is a legitimate debt settlement company, others smell a scam in it. If you want to find out what you are dealing with under the name of this company, our Crestridge Funding review can shed light on your concerns.
Crestridge Funding connects consumers with loan service companies. As a lead generator, this company does not offer direct lending services to consumers. Although Crestridge Funding may connect you to a legit lender, there is a brighter chance of landing in the hands of scammers.
The biggest problem in signing up with Crestridgefunding.com is the factor of uncertainty. You may never know who you are dealing with. There are many scams in the debt settlement industry. You may be on your own if you connect to a company that traps you in an infinite loop of overdue amounts. Crestridge Funding does not vouch for any third-party debt settler. If you are lucky enough, you may also find a legitimate organization offering loan services with easy pay-offs. However, it may not be a risk worth taking.
Crestridge Funding is a mix of green and red flags as a lead generator. You may win a reliable debt settlement company or fall into the trap of fraudsters. To ensure a risk-free experience, you may need to research different companies to choose from reputable ones. It is worth noting that Crestridge Funding may not be a scam itself, but it may expose you to one of the fraud companies on its panel.

What Is the Role of Crestridge Funding?
Crestridge Funding takes information from debt seekers and passes it on to the debt settlement companies. When you sign up for the service, you must fill out an online form. Crestridge Funding may ask you to give information, including your loan requirements. Once done, the company will send the information to the third-party loan providers to get you a quote.
The relationship between Crestridge and debt settlement companies is between a seller and a buyer. Crestridge sells your demand to the highest bidder on the pool. When a company approves the lead and offers a settlement, it pays Crestridge Funding a specific amount. The percentage of the money depends on the value of the debt contract offered by third-party companies.
If you get a high offer from any of the debt settlement companies, Crestrdige may receive a higher percentage as the commission for the lead. On the other hand, if the company settles down for a smaller value to offer you, Crestridge Funding will receive a smaller proportion from the debt settlement company.
If you want to use their service to connect with a debt settlement company, you must keep a few factors in mind. Filling an online form and sharing it with the companies does not guarantee any offers. When you receive an offer from a company, you may want to check the company's records and customer reviews before signing the contract. Before deciding, you may also need to check for hidden terms and costs.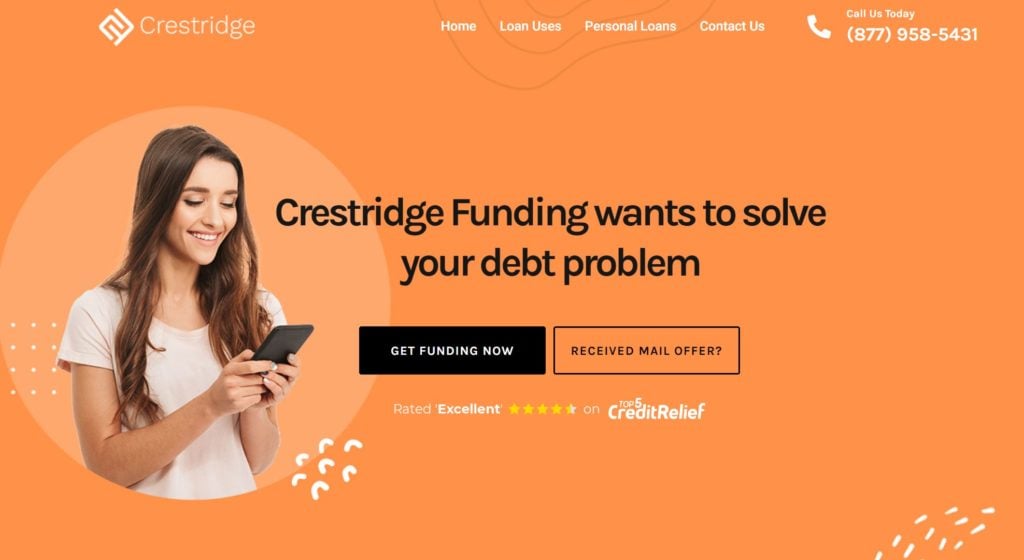 What Is the Service Cost of Crestridge Funding?
Crestridge Funding charges a fee from the users to provide its services. You need to pay $299 to sign up with the company. Please note that this fee only goes to Crestridge Funding and does not accommodate third-party loan processing fees. While opting for Crestridge, you may need to remember that the company has no authority to offer financial or legal advice to its customers. It only acts as a bridge between debt seekers and debt settlement companies.
How Can Crestridge Funding Ruin Your Credit?
Lead generation platforms, including Crestridge Funding, may not be your direct service providers, but they can affect your credit report. Such companies typically directly interest your valuable money against your personal loan. Once you sign up with a third-party debt settlement company, Crestridge Funding may run you out of credit, leaving you in debt. These scams often happen once you receive credit from the debt settlement provider. It would be best to avoid it to save yourself from paying uncalled-for expenses.
If you need debt relief, plenty of legitimate options are available in the market. It would help if you avoided the companies associated with Crestridge Funding at all costs. We have listed a few reasons below to help you understand why you need to avoid such services.
Crestridge Funding provides leads to notorious debt scammers against a variable commission.
The company can use multiple tactics and policies to use your credit and leave you in debt.
It is not a credible source to consolidate debt for your needs.
There are many legitimate debt settlement providers that you can trust in the market with transparent policies.
The company's policies may not be legally questionable, leaving you with no option but to clear the debt.
Which Debt Settlement Companies Does Crestridge Funding Work With?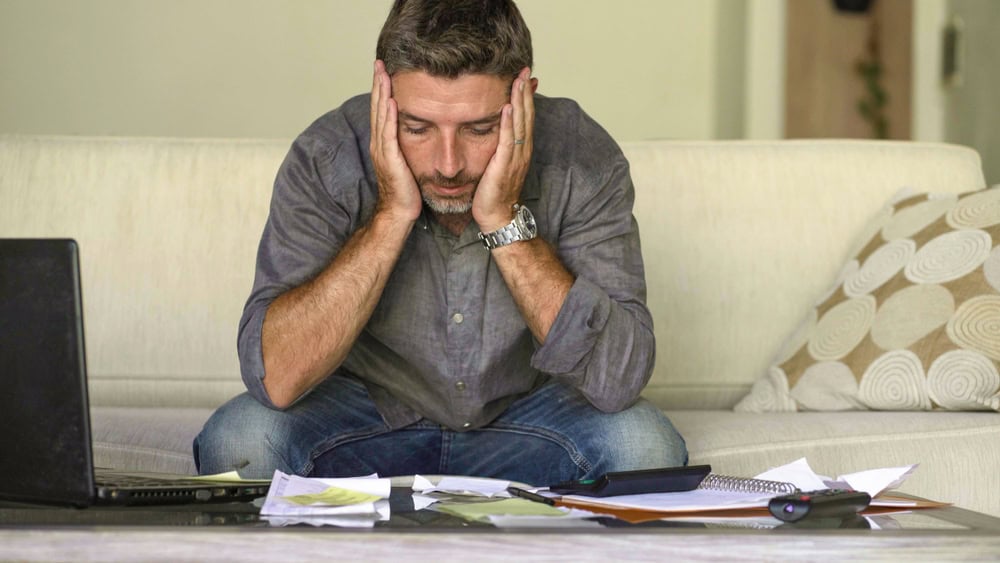 Debt settlement providers can positively impact those looking to get out of debt. Such companies provide consumers with multiple payment plans and services to pay off their debt. While this may be correct, it is vital to know whether or not the company you are working with has a legitimate market status.
Crestridge Funding has developed a negative reputation among its customers. It works with some of the poorly rated debt settlement companies. These companies scam consumers with hidden costs and shady policies. While some companies may offer legitimate services, you may need to conduct thorough research before committing to a specific service provider. One of the best ways is to look for customer reviews. You may also find consumer complaints about some of the companies.
As a lead generator, Crestridge Funding relies mainly on payments from debt settlement companies. Most credible companies do not require third-party lead generation services to grow their sales. Poorly reputed debt settlers rely on platforms like Crestridge Funding to grow their business. While Crestridge Funding may not be a direct player in the process, it may quote your demands to such debt settlement providers exposing you to the risk of fraud.
If you cannot find more credible options in the debt industry, you may only consider Crestridge Funding with the condition of proceeding with precaution.
Is Crestridge Funding a Scam?
Crestridge Funding has received many negative reviews over the years. As per Crixeo.com ratings (updated February 28, 2022), the company falls on a 2-star rating. The rating depends on several indicators, including customer reviews and the company's role in the debt industry.
We have gathered a list of red flag indicators below to help you understand why you must avoid Crestridge Funding.
Crestridge Funding is a lead generator and does not lend finances to its customers.
They follow the bait and switch model in onboarding their customers.
Crestridge Funding lures you in by making direct offers of the extremely low-interest rates at 2.92% for debt consolidation.
Despite the pre-approved debt, the company does not notify you about the requirement for large credit to qualify for low-interest loan terms.
In contrast to the company's claims, only a small proportion of customers may receive the debt at 2.92% interest.
Crestridge Funding does not own the scams or frauds of third-party debt settlement providers.
Seeking debt settlement services can be tricky. Regardless of your needs, you may need to think twice before opting for a company. Most companies use pre-approval tactics to lure customers into signing up for the plan. While this may be correct, only a few companies tend to deliver what they commit. If you need debt settlement services, you can find many credible and competitive options in the industry.
Choosing Crestridge Funding may only add to your existing problems with a fair possibility of scams. Do not fall for the pre-approved offers to ensure you stay safe from fraudulent activities. Discuss the terms of payment first. You may also look into what other customers are saying. Doing your research is the only safe way out for you.
Are the Debt Settlement Companies Affiliated with Crestridge Funding Legit?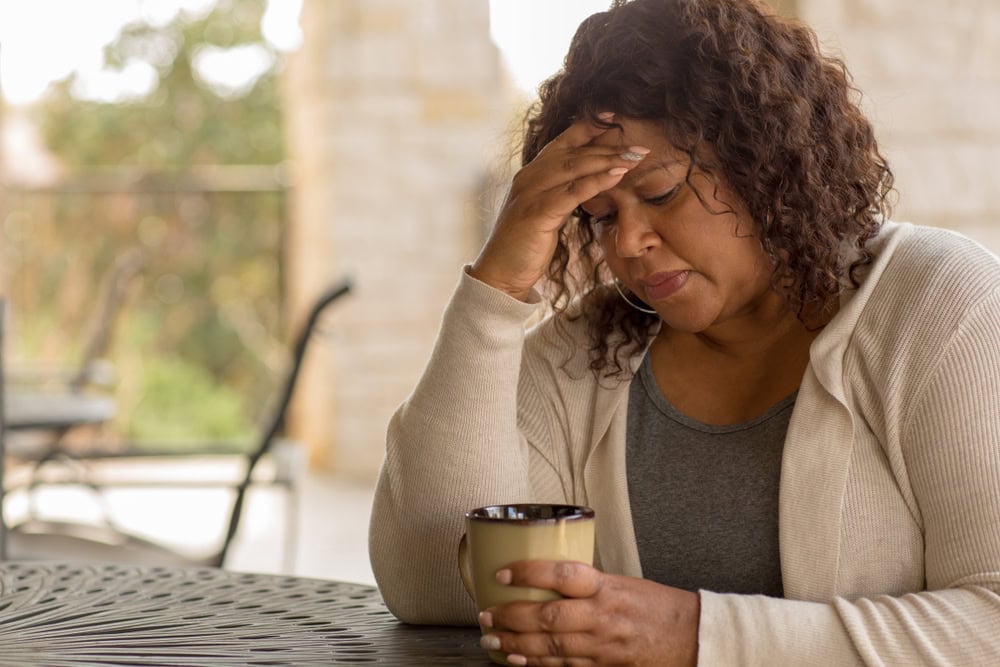 Before you sign up with a debt settlement company, there are a few things you need to be clear about. The debt settlement industry is legitimate. Many companies have been working for years and providing customers with debt consolidation services. However, like any other industry, you may find both good and bad fish in the pond. Some businesses are more prone to fraudulent activities.
Debt settlement companies are more likely to benefit from scams. By making unfavorable policies for consumers, these companies take an unfair advantage. While this may be true, there are several good options to consider. You can sign up with credible companies to stay risk-free of such scams.
Crestridge Funding has established a negative reputation in the industry due to its affiliation with some debt scammers. It may lure you into opting for a specific company as a third-party source. However, you may soon end up losing your credit. Such companies may not be easy to track. You may not be able to recover your loss.
If you wonder how to check if a debt settlement company is a legitimate source, you may need to check some of the accreditations first. If the Better Business Bureau (BBB) has accredited the company, you can rely on it. It is worth noting that accreditation alone may not serve as a guarantee. The BBB receives several complaints about debt settlement companies. However, the companies failed to respond to complaints or improve their services.
To seek the services of a debt settlement company, you should discuss the details with a qualified attorney beforehand. Attornies are a legitimate source to check the credibility of any organization. You can do your research and share the details with the attorney. They can check the company's status, market reputation, legal records, and fraud complaints to tell you if you should go for it. An attorney may also share helpful advice regarding creating a debt settlement contract. They can also offer legal protection of your rights against fraudulent activities.
Should I Give My Personal Information to Crestridge Funding?
When you sign up with Crestridge Funding, the company may ask you to share your personal information with debt settlement companies. They may state logical reasons to get the information from you. However, you should not give your details to the company at any cost. Although Crestridge may not misuse your data directly, the third-party scammers can use your identity in other fraudulent activities.
If the company insists on getting your personal information, you may reach out to the Better Business Bureau (BBB) and report the company. The BBB can check if the requirement is legit. Moreover, it can help you recover your loss in case of scams.
What to Do When Considering Using Crestridge Funding Services?
If you cannot find other debt relief companies and want to consider Crestridge Funding, you may need to secure the ground first. By discussing your idea with the attorney, you can determine if you need to opt for the service or not. Attornies can also provide a checklist of factors before making a contract.
You may also discuss different ways out with your attorney beforehand. They can help you against any scams or unfair advantages that Crestridge may take.
If you have already worked with a debt settlement company through Crestridge Funding, you can use your judgment call to review the companies that offer you a settlement. If you had a bad experience, you could report it to the Better Business Bureau (BBB) to seek assistance.
Recovery is one of the many advantages of reporting your scam incident to the BBB. Generally, credit bureaus can help you recover your lost money from fraudsters.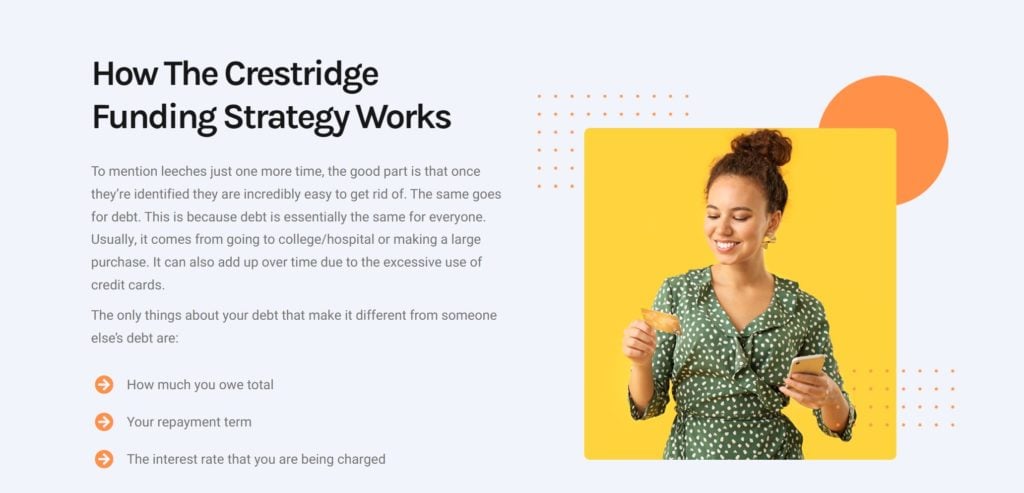 Crestridge Funding Reviews
We have quoted a user review below to help you see it from another customer's perspective. Before you look at it, it is worth mentioning that Crestridge Funding does not have an account with the Better Business Bureau (BBB). The no-accreditation factor places the company on the radar of suspicions. There are some Trustpilot Reviews on Crestridge Funding.
"Crestridge Funding is representative of what is plaguing the debt consolidation industry. Direct mail with low rates, selling leads for loans, and bait and switch tactics to turn the customer into a debt settlement customer. We highly recommend doing your due diligence on Crestridge Funding's lead buyers before entering into any financial relationship with the company."
How Should I Contact Crestridge Funding Customer Service?
To reach out to Crestridge Funding's customer service, you can find a contact on its website. While this may be correct, the company does not connect you to a debt settlement provider. If you need to know about the policies of a specific third-party company, you may not receive accurate information.
How Do I Cancel Crestridge Funding Services?
With no accreditations with the Better Business Bureau (BBB), Crestridge Funding falls on a very suspicious block. You should avoid seeking services from this company at all costs. You can follow the instructions below if you had a rough experience with Crestridge and want to cancel your funding.
Call the customer service department at Crestridge Funding and wait for a representative to answer. Once the line connects, you can ask the representative to cancel your funding service. The Crestrdige representative may try to change your decision by offering alternative solutions. You can stick to your decision and ask them to make a refund for all your unused services.
Please note that the customer service team may try to talk you out of refunding your unused services. If the representative persists, you can hang up the phone and try again.
Be prepared to repeatedly make a few phone calls to cancel your services with Crestridge Funding. If you are lucky enough, you may get rid of the company after several phone calls. You may also spread the word to your family, friends, and colleagues to stay out of their trap to avoid scams.
Crestridge Funding in a Nutshell
If you receive any pre-approved offers from Crestridge Funding, do not fall for them. They set a trap for their customers by offering them ridiculously low-interest rates for consolidating debts. Whether struggling to pay your commodity costs or paying off your debts, you must look for legitimate sources to seek help.
Crestridge Funding may seem like the best option at first, but you will most likely regret choosing it sooner than later. You may also protect your personal information from the company. They will keep reaching out to you to offer more attractive bids that you may be unable to resist.
To avoid the scam of companies like Crestridge, you can find some of the best settlement companies online for debt settlement services.
Thank you for reading!