Brookwood Loans has been providing customers with financial assistance for many years. They are a personal loan company that is licensed and regulated by the state. Their internet-based loans are designed for people who have fair-to-good credit and a stable income. The company is currently offering loans in Alabama, Georgia, Missouri, New Mexico, South Carolina, Texas, Utah, Virginia, and Wisconsin. Their website, brookwoodloans.com, provides information on how to apply for a loan and what the requirements are.
Brookwood Loans Summary
When it comes to taking out a loan, there are so many options available that it can be tricky to choose the right one. It is, therefore, essential to compare lenders and find the one that will best fit your needs. Brookwood Loans has been receiving a lot of attention. But is this the right lender for you? Here is a more in-depth look at the company so you can make an informed decision.
Here are some interesting things we found when we took a close look at Brookwood Loans' website and terms and conditions.
In some states, it offers unsecured loans of $1000, $1500, $2000, $2500, and $3500.
Loans' APRs range between 59% and 116%.
The lender is licensed and regulated by the New Mexico Regulation and Licensing Department.
Terms go up to 36 months.
Payments are withdrawn automatically from your checking account monthly on your due date.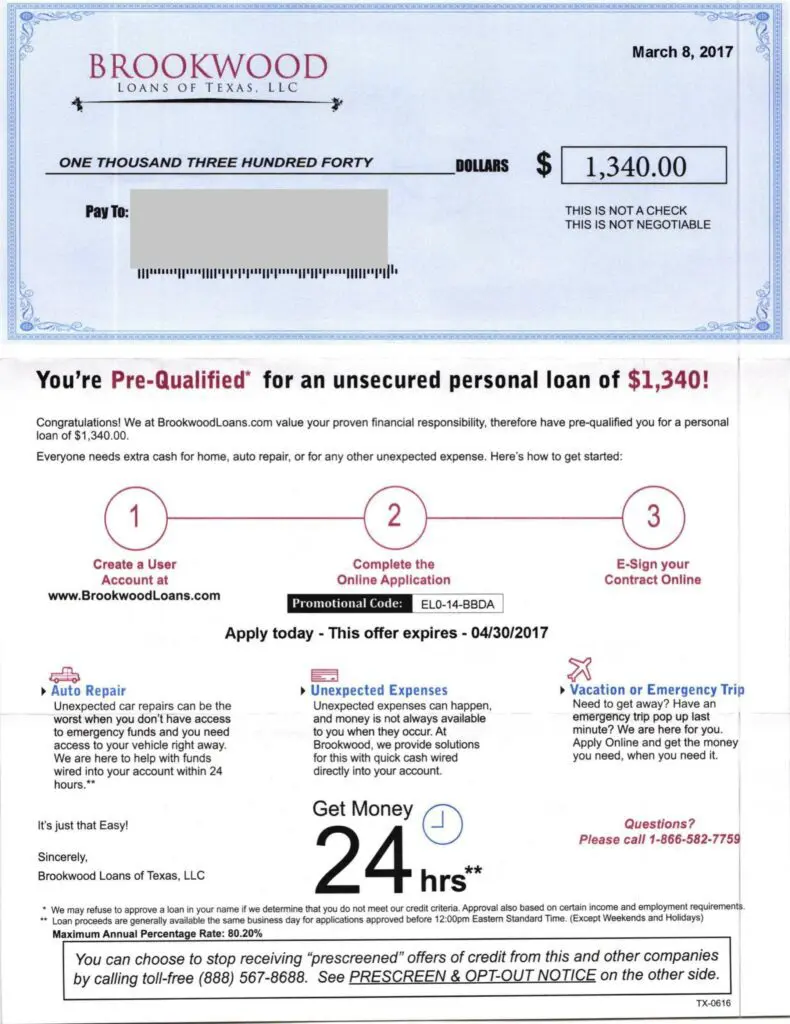 Loans from Brookwood are not available in the following states:
ALASKA, ARIZONA, ARKANSAS, CALIFORNIA, COLORADO, CONNECTICUT, DELAWARE, DISTRICT OF COLUMBIA, FLORIDA, HAWAII, IDAHO, ILLINOIS, INDIANA, IOWA, KANSAS, KENTUCKY, LOUISIANA, MAINE, MARYLAND, MASSACHUSETTS, MICHIGAN, MINNESOTA, MISSISSIPPI, MONTANA, NEBRASKA, NEVADA, NEW HAMPSHIRE, NEW JERSEY, NEW YORK, NORTH CAROLINA, NORTH DAKOTA, OHIO, OKLAHOMA, OREGON, PENNSYLVANIA, RHODE ISLAND, SOUTH DAKOTA, TENNESSEE, VERMONT, VIRGINIA, WASHINGTON, WEST VIRGINIA, WYOMING, PUERTO RICO.
What is Brookwood Loans?
Brookwood Loans is a trusted name in consumer finance; they have years of experience helping people to get the loans they need. Their internet-based loans are designed for people who have fair-to-good credit and a stable income. This company has multiple locations. You can reach them via phone by calling (800) 324-4061.
For anyone considering a loan from Brookwood, it's important to know that they are not accredited by the Better Business Bureau. They have 0 reviews, and one complaint closed in the last three years. Although their A+ rating from the BBB may make them seem like a reputable company, it's important to do your research before making any decisions.
How do Brookwood Loans work?
Brookwood Loans offers payments spread out over 36 months for easy and convenient consumers – just like a car payment. The first payment is due one month after you sign your loan agreement, and then payments are due on the same day each month after that. And there are no hidden fees or "Balloon Payments."
To apply for a loan, simply complete an online application. After filling out the form, you will be asked to fax in a copy of your driver's license and voided check. You will then have the opportunity to review the payment terms and decide whether or not you want to accept or reject the loan offer. And finally, executing the loan agreement is as easy as completing it electronically.
Loan funds will typically be available within one business day as long as the agreement process is completed online before 1:00 PM Eastern Time. Otherwise, loan funds will be available on the next business day.
How to qualify for Brookwood Loans?
To apply for a Brookwood Loan, you must be a citizen of the United States and 18 years of age or older. You will also need a Social Security Number. Lastly, you must have an active checking account with a bank located within the United States. At this time, they are only able to accept applications from residents of these states: Alabama, Georgia, Missouri, New Mexico, South Carolina, Texas, Utah, Virginia, and Wisconsin.
For you to qualify for a loan from Brookwood Loans, you will be to required submit the following documentation:
A copy of your driver's license
A voided check from an active checking account
A copy of the most recent bank statement
Certain tax documents
Brookwood Loans BBB Reviews
Brookwood Loans is not accredited by the Better Business Bureau (BBB), but they do have an A+ rating from the BBB. They have 1 complaint closed in the last 3 years.
Here are some reviews:
Initial Complaint 11/08/2021
Complaint Type: Advertising/Sales Issues Status: Answered
I am a victim of identity- theft, I am writing to request that you block all accounts disputed as fraudulent on my credit reports with Transunion, Equifax, and Experian. This information does not relate to any transactions I have made.
I did not give anyone authorization or consent to use my personal information.
I hereby exercise my legal rights enacted by Congress and The ************************* which explicitly states when a victim of identity-theft dispute a fraudulent account on his/her credit report it shall be honored by all credit bureaus and all fraudulent information should be blocked within 4 days and proper notification shall be given to all data furnishers pursuant to section 605b of The Federal Fair Credit Reporting Act.1. BROOKWOOD ball. $0.00 Acct # ***-****
Brookwood Loans FAQs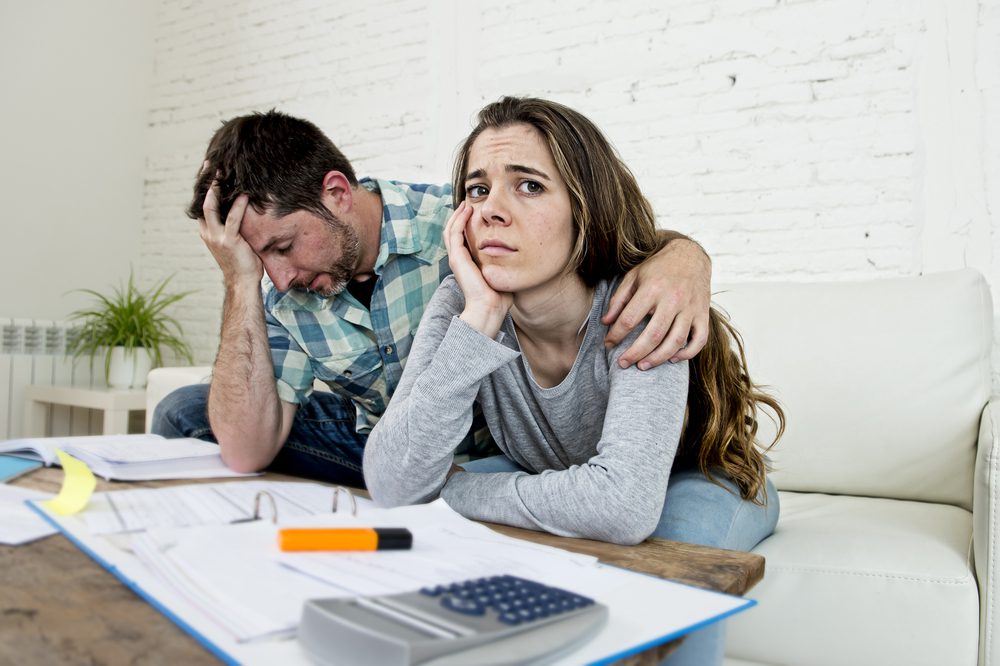 How much do Brookwood Loans charge?
Brookwood Loans offers a really wide range of loans with APRs ranging from 59% to 116%. You can check your rates here.
Are there any pre-payment penalties?
You can get a personal loan from Brookwood Loans without paying any prepayment fees. This means you can save on interest by paying the loan early, and you won't have to worry about any application fees.
Do Brookwood Loans affect your credit?
You're probably wondering whether or not you should take out a loan. Well, you can get a soft credit pull from a lender like Brookwood Loans. This way, you can see what interest rates and loan terms you might qualify for. Keep in mind that this won't affect your credit score at all.
Although applying for a loan may result in a hard credit inquiry, which can lower your credit score, it is still worth considering. A hard credit inquiry provides lenders with a full view of your credit history and helps them offer you final rates. These inquiries are not uncommon when applying for loans and should not dissuade you from applying.
How to cancel Brookwood Loans?
When you apply for a personal loan, you need to be sure of your decision. Once the loan is approved and the funds are in your account, you can't cancel or reverse the transaction. So think carefully before you apply to avoid any unwanted changes or cancellations later on.
Do you find it difficult to make ends meet? Here is some advice that may help you get back on track.
There are some things you can do to get your finances in order.
To stay on track with your finances, it is important to create a budget and stick to it.
Working with a financial advisor can help set you up for success by providing individualized advice and guidance. They can help create a budget, choose investments and manage your finances so that you can make the most of your money.
Don't stress too much about debt. Lots of companies are more than happy to help customers develop a more manageable payment plan. So shoot their customer service team an email for more info.
Is Brookwood Loans legit or a scam?
Brookwood Loans has many years of experience in providing consumers with financial assistance. Its wide range of personal loans for different purposes and excellent rating with the Better Business Bureau makes it a contender in the personal loan business. However, the company is not accredited by the BBB, it only has one complaint on record and no reviews.
There are a few things to consider before taking out a loan. It's important to compare rates and terms from different lenders to get the best deal possible. Reading customer reviews can also help you understand the lender you're considering. By being informed and researching, you can help ensure you're getting the best deal on your loan.
Do you know brookwoodloans.com? Leave your experience and review below!